Honestly, I wouldn't have believed it was Leon, even if someone had pointed at the screen and said, "Hey! There's Leon Russell!"
Nope. Wouldn't have believed it. Behind the piano, all right, but no beard, no white hair. In fact, he's got a cruiser-hair-do straight out of an S.E. Hinton novel.
Then, partway through the song – in between the lines of the verse – he stretches out a word the way only he could do it, and it is unmistakable. Can't forget a voice that was already one-of-a-kind, even back in 1964.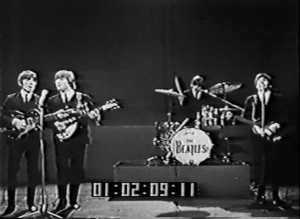 Some of you may remember the show: Shindig! (That's not my exclamation point… it's the way the show was titled.) It was pretty early rock and roll, and unlike New Year's TV music broadcasts these days, there was no lip-synching. Real guitar licks. Real vocals.
There was a house band that played each week. The Shin-diggers – who were later known as the Shindogs. Some musicians who later became big names, including Tulsa's Leon Russell on piano. There was Glen Campbell, Billy Preston, Delaney Bramlett (half of Delaney & Bonnie, and the guy who taught George Harrison to play slide guitar), and other notables who were later known as the Wrecking Crew (Phil Spector's studio band).
Shindig! was put together as a replacement show for Hootenanny, another musical variety show that featured folk and bluegrass music. (Even as I'm typing these show-titles they sound old-fashioned and antiquated. Did we really use words like that?)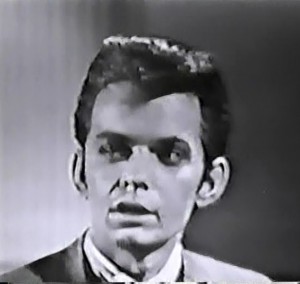 "Come on!" we yelled. "Let's have ourselves a hootenanny!"
"Oh, you're darn-tootin!" rang out the shouted reply. "We'll have a regular shindig!"
Looking at these pirated episodes, I have to shake my head at the dancing (as familiar as some of the moves look…) and the hair styles, but the music isn't embarrassing. The show was taped before a live audience and the musicians did themselves justice. Sure, they're oldies. But they're easier to dance to than a history book.
The show had a two year run – not quite 100 shows – that for a time aired twice a week in prime time.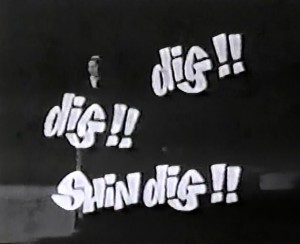 And there were plenty of stars: the Beatles taped a performance in England for the show (Oct 7, 1964), Roy Orbison, Mannfred Mann, the Righteous Brothers, Tina Turner, Tulsa's Roy Clark, Marvin Gaye, the Beach Boys – all performed in the early shows over the first few months, and there were plenty of others.
It's almost a miracle that I'm able to view the episodes. Back in the early 1960's, videotape was a new thing, and quite expensive. Since it was re-usable, it mostly was – and many programs were simply lost in the overwrite recording. Some years ago, a record label released some compilation tapes (VCR), picking and choosing songs to include according to a theme.
But in this case, some fan put a film camera in front of his TV screen (I'm guessing, in the way the old Kinescope recordings were done) and created an archive. Some shows are obviously copied from a studio master, as the inclusion of a running-time stamp would indicate.
One thing I've noticed about these shows I recall from back then: Everybody sure looks young.
Well, some of us no longer have our youth – but we've got technology, by gosh! I'm cranking up the computer and jumping up (slowly) to do the Mashed Potato!
(Chef Dustin makes his mash by hand every day for lunchtime, so Come Visit!)
McHuston
Booksellers & Irish Bistro
Rose District
122 South Main St. Broken Arrow, OK!