Serving at Midday, Monday thru Saturday, 11:00am to 2:00pm, featuring a regular menu and daily Chalkboard Specials ranging from Pulled Pork BBQ Sliders, Grown-up Grilled Cheese with Tomato Soup, and Bacon-Turkey-Guacamole sandwich on soft-crust sourdough – to South-of-the-Irish-Border Roasted Corn and Pepper Quesadillas.
Although it's subject to change, Mondays normally feature a chicken salad, prepared from fresh-baked chicken and served on a hearty white bread or plated without bread on leaf lettuce, and served with choice of soup, salad, or Irish stew. Wednesday's featured sandwich is the Pony, with bacon, turkey, and guacamole on grilled soft-crust sourdough bread – served with tortilla chips and Chef Dustin's fresh-made salsa. On Friday, chances are you'll find a Croissant Club sandwich with the normally-double-decker layers settled in on a buttery croissant roll.
A selection of low-point beer includes Blue Moon Belgian White Ale and Shiner Bock on draft, Killian's Irish Red, and Dos Equis. We've added additional seating since our humble beginnings.
People have asked – What is an Irish Bistro, anyway? Well, a 'bistro' is defined as a small restaurant with a simple menu. We offer some menu items you might not find elsewhere, and others you might – prepared with our own flair.
Here's what you'll find on our current menu, or click on the link down below.
The Every Day Special
Pick any two: Irish Stew, Soup, Salad, or any half-sandwich. $7
Soups
Potato White Cheddar, prepared in-house daily from choice Russet potatoes and fresh vegetables. Other soups of the day, in season.
Cup $4 Bowl $6
Favorites with our own Heartland flair.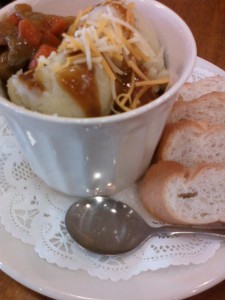 Irish Stew
Slow-cooked tender roast beef, potatoes, carrots, onion, & celery in a savory brown gravy.
Cup: $4 Bowl: $6

Shepherd's Pie $8
Our signature dish based on the olde world favorite. A generous portion of our Irish Stew topped with hand-mashed potatoes and grated cheddar cheese.

Bangers and Mash $8
Mildly spicy hot links served over hand-mashed potatoes, and topped with our savory stew gravy.

Meatloaf and Mash $8
Just like Grandma Mamie used to make, hand-mashed potatoes and meatloaf topped with our savory stew gravy.

Click here to see the official menu!
Served with potato crisps (chips). Add a cup of soup or stew for only $1.50

Turkey and Swiss $7
Smoked turkey breast, Swiss cheese, leaf lettuce, tomato, and mayo, on hearty Irish white bread.

Bacon Ham & Cheese $8
Honey ham, mild cheddar, crisp bacon, leaf lettuce, tomato, and spicy mustard on grilled hearty Irish white bread.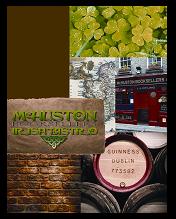 Grilled Three Cheese $7
Muenster, mild Cheddar, provolone, and mayo on grilled sourdough bread.

Paddy's Melt $8
Our version of the patty melt with sliced meatloaf, Swiss cheese, and sweet BBQ sauce on grilled marbled rye bread.

Corned Beef on Rye $8
Thin-sliced corned beef, Swiss cheese and 1000 Island on grilled marbled rye bread. Make it a Reuben! Add sauerkraut for $1.

Bacon, Lettuce, & Tomato $7
Crisp bacon, leaf lettuce, tomato, and mayo on grilled sourdough bread.