SERVING DINE IN AND CARRY-OUT. MONDAY – FRIDAY 10am – 2pm 918-258-3301
We are in the process of shutting down our operation and closing the bookstore & bistro, after not-quite-twenty years. Time for retirement and new challenges. Please check with us as to the day's status regarding the kitchen.
Since every lunch is made-to-order, you can have it prepared your way. Leave off the bacon, or – add more! Each menu sandwich is available as a full sandwich with chips, or as a half-sandwich with chips and a choice of soup or stew.
Here's what you'll find on our current menu.
Soups
Monday: Tomato Basil * Tuesday: Potato * Wednesday: Chicken Tortilla * Thursday: Hearty Vegetable * Friday: Broccoli Cheese
Cup $4 Bowl $6

Beef Stew
Slow-cooked tender roast beef, potatoes, carrots, onion, & celery in a savory brown gravy.
Cup: $4 Bowl: $6

Shepherd's Pie $8
Our version of the Old World favorite. Beef Stew topped with mashed potatoes and grated cheddar cheese.

Mamie's Meatloaf and Mash $8
Just like Grandma Mamie used to make! Sliced meatloaf over mashed potatoes a savory brown gravy.

Click here to view Menu Page 1
Served with potato chips, or tortilla chips and house salsa. Add a cup or bowl of soup or stew to a full sandwich with a small upcharge.

Book Club $8
Thin-sliced honey ham, smoked turkey, crispy bacon, provolone cheese, lettuce, tomato, and mayo on lightly grilled white or wheat bread.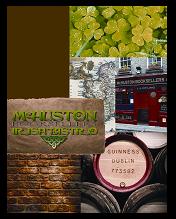 Hippie Grilled Cheese $8
Bacon, Tomato, Provolone, Muenster, mild Cheddar, Gouda cheese, and roasted garlic mayo on grilled sourdough bread.

Meatloaf Sliders $8
Two grilled slider buns loaded with Mamie's meatloaf, Muenster cheese, lettuce, tomato, & roasted garlic mayo.

Rueben $9
Thin-sliced corned beef, Swiss cheese, sauerkraut, and 1000 Island on grilled rye bread.

Bacon, Lettuce, & Tomato $8
Classic. Bacon. Lettuce. Tomato. Served on grilled sourdough bread with mustard or mayo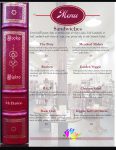 Chicken Salad $8
Oven-baked chicken breast, diced apples, pecans, & celery on multi-grain bread, with Swiss cheese, lettuce, & tomato. Grilled on request.

Garden Veggie $8
Fresh Guacamole, cucumber, lettuce, tomato, Muenster cheese, onion sprouts, and mayo on multi-grain bread.

The Pony $8
Honey-smoked Turkey, crispy bacon, guacamole, Provolone cheese, and mayo, on grilled sourdough bread.