The inventory has been back on the shelves for some time now, following the move to our new location in Broken Arrow's Rose District. (122 South Main, Broken Arrow, OK, to be specific.) If you have not been by, please consider this a formal invitation to stop in and look over the new surroundings.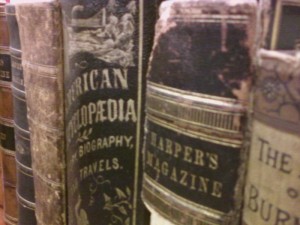 The complete inventory has never been available online. Since we're a brick and mortar store, that's where the majority of our efforts are focused. Feel free to email or telephone to inquire about specific titles.
Our former online inventory offered through Alibris has been removed for the present time. The process of re-listing select titles is in the works, but will be limited to those books that may be of greater interest to our national clientele. (McHuston Booksellers has shipped books from Park Avenue in New York City to Portugal and Peru, from Puerto Rico to Pasadena, and points in between.)
The titles to be listed might be considered – Scarce, Unusual, Rare, Antique, or just Oddball books – and will be hosted on this site rather than through Alibris. It is bound to be a long-term project that will featured limited titles for a good while.
And remember – even if the book you're looking for isn't currently on the shelves here, we're pleased to special order. Call or come by.
McHuston Booksellers: Rose District, 122 South Main Street, Broken Arrow, OK 74012 * 918-258-3301