The three of them would walk down to Owl Drugs after school, and there they became a cartoonist's club – of sorts: Paul Davis, Russell Myers, and Archie Goodwin. And who would have thought of the trio of Will Rogers High School students as headed for stardom?
What?
You don't know them by name?
I had a surprise there, too. Opened up the mail and pulled out a first edition copy of True Grit by Charles Portis, which ranks somewhere near the top of my list of favorite books. As it is with any new acquisition, I was checking the copy, making sure it was everything it ought to be.
It was.
Portis wrote the story with a rural eloquence that is almost poetic. Then there is that wry humor as typified in the courtroom scene:
Goudy: I believe you testified that you backed away from old man Wharton?
Rooster Cogburn: Yes, sir.
Goudy: Which direction were you going?
Rooster Cogburn: Backward. I always go backward when I'm backin' away.
My examination had me lingering over the dust jacket and the artwork. A singular style, I thought. Simplistic but powerful. Knowing the story, I thought it captured the essence of both Mattie – the main character – and the title of the book.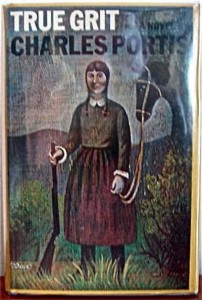 I wondered who had painted it, and that's when I learned about the after-school artists and Owl Drugs in Tulsa. Paul Davis did not linger in Tulsa long after high school. His skill with the brushes earned him a scholarship at a New York City art school, and he established a reputation and a clientele in short order.
His works were visible on the streets, on television, in magazines, and on movie sets. He painted record album covers and advertising art. He was in high demand as an illustrator even before he founded Paul Davis Studio in 1963. It was five years later that he was commissioned to do the dust jacket for True Grit.
It positively shocked me to learn that he grew up in Tulsa.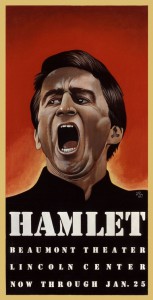 But I could relate to the idea of a cartoonist's club. My ninth grade buddies and I considered ourselves more of a clique than a club, but we spent more time than we should have, putting pen to paper. Shortly before the end of the semester, my English teacher took me aside and informed me that I had turned in so few assignments that she was going to be forced to fail me.
She told me she hated to "Fail" anyone, and intended to record my grade as – I – for Incomplete. The letter wouldn't make so much difference, I thought – figuring whatever letter she wrote would probably keep me out of tenth grade, or have me in "summer school" at the least.
It likely wouldn't happen today, but she allowed me to stay after school each day of that last week of school, starting at the top and working my way down the stack of the semester's worth of assignments I'd failed to turn in…
…because my buddies and I were too busy free-handing the line art from A Tale of Two Cities.
It was passable art that almost kept me from passing out of ninth grade, but – obviously – not enough to win an art school scholarship.
On the other hand, Paul's art buddies managed to find their ways into the art world. Archie Goodwin – whom I had the good fortune to meet on an occasion – made his mark in the comic book world and was a frequent guest at conventions.
The work of Russell Meyers is something I examine every morning. The Tulsa World carries his comic strip Broom-Hilda, which Meyers syndicated in 1970 – the same year I squeaked into my sophomore year.
It doesn't surprise me that so many talented folks have ties to the Tulsa area, but I am surprised at the number – with international renown – who have managed to slip under my radar.
Being a fan of True Grit, it tickles me greatly to know that the story is set in our general area (including a visit to JJ McAlester's General Store!) and is such a wonderfully written book wrapped in artistic local color.
Like to own a copy?
I just happen to know where I can lay hands on a First Edition…
Come visit!
McHuston
Booksellers & Irish Bistro
Rose District
122 South Main St. Broken Arrow OK!