Media Surprise Day! No advisory notice from Facebook or the 5-Things-4-Friday newspaper column, but we found out early in the day that we were on TV and featured in a magazine!
The early morning guests were just about as startled as I was.
"Saw you on TV this morning!" said the early-arriver, smiling.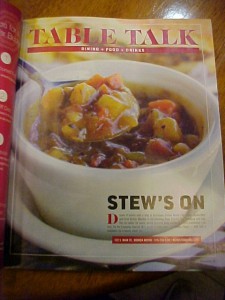 "You saw me?" I replied, thinking that if a camera crew had wandered in, I would have noticed. (Apparently, that isn't the case, as proven by the next episode…)
"Sure did," he answered. "This morning."
We went through a mutual we-must-be-crazy moment, when I was pretty sure I couldn't have been the one he had seen, and he was fairly certain I was. It was settled when he asked, "Do you have a first edition copy of a Charles Dickens book?"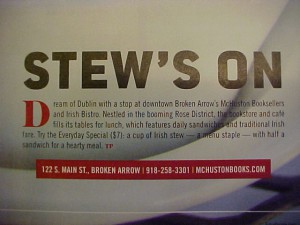 "I do," I answered, and then remembered that the TV program Discover Oklahoma! had included a bit on the book when they interviewed Dustin and me last summer.
We're a re-run, I guess. I missed it again. Fortunately, the OETA-produced program keeps its episodes on YouTube, so I was able to see the segment later. (You can watch it clicking here. Our segment starts at about the 9-minute mark.)
The TV Mystery had just been solved when a group of ladies arrived for lunch. Ms Judy whipped out a copy of TULSA PEOPLE magazine and opened it immediately to a page with a picture of cup of stew.
Familiar-looking.
"That looks just like our stew," I said aloud, amazed at the incredible similarity.
It was a large photo and I could clearly see the finely-diced carrots, the potatoes, the thick brown gravy. Just. Like. Dustin's. When I spotted flecks of basil, I thought – Wait a minute here. Looked at the text and our store name jumped out at me.
It wasn't until later that I was able to read the short paragraph (we had to serve their lunch, after all…) and look again at the picture. No by-line or credit was given for the photograph or the text, but it is beautifully done (as far as stew can be a beautiful thing…), and presented in a very high quality publication. Nice slick pages and glossy photos.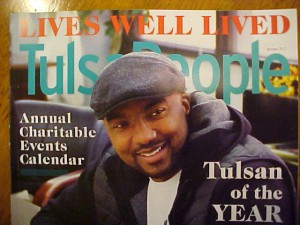 The ladies told me that they loved to go try out new places for lunch, and at having seen the cup of stew and the address, decided to give us a try.
I'm not certain the text is legible in the attached image, but the fine print after the headline reads:
"Dream of Dublin with a stop at Broken Arrow's McHuston Booksellers and Irish Bistro. Nestled in the booming Rose District, the bookstore and café fills its tables for lunch, which features daily sandwiches and traditional Irish fare. Try the Everyday Special ($7), a cup of Irish stew – a menu staple – with a half sandwich for a hearty meal."
They even included our internet address and store location.
Thanks right here and now to Dustin – it's a grand-looking cup 'o stew in the picture! A rousing Thank You to daughter (and Dustin's sister) Kristen for helping in the front of the house today, and keeping the ladies happy.
And a Thanks! to the uncredited photographer who was wily enough to slip in and take pictures during our lunch rush – without me being any the wiser! (It has been extra-busy, of late, and I don't seem to get any wiser…)
An official
McHuston Booksellers and Irish Bistro shout-out to TULSA PEOPLE publisher Jim Langdon, for allowing us to be included in the fine-looking and informative magazine!
Another year is upon us, and our wish to you is that your hand reaches out in friendship and never in need, so you may forget the troubles that pass away, and remember blessings that come each day.
Come visit!
McHuston
Booksellers & Irish Bistro
Rose District
122 South Main St. Broken Arrow OK!