It wasn't even fully dark, but my wife – being an early-to-bed-early-to-rise sort – had abandoned the vacation-ship for the night. Being more of a night-owl, I put down the paperback book and slipped out of the condo and into the Caribbean night.
Our rental was off to itself, but we were provided an electric golf cart and in no time I was humming my way down the road to the marina. Near a line of anchored yachts was a long, open-air bar called the Tipsy Seagull, mostly deserted, with plenty of space for me on the near side. I sat down and ordered a frosty pop. Back then, there were no mounted televisions blaring sports commentary – but there was still plenty to look at.
Probably the main grabber was the shark. Maybe eight or ten feet long, mounted below the beams of the roof. Could have been a real catch, or could have been a rubber version of a reef shark – the open-mouth toothy grin had the same Jaws effect, either way. From one end of the bar, all the way down to the other, there were hanging nets, strings of colored lights, fishing poles, seaweed, harpoons – everything but a wax-version Captain Ahab.
The bar was long and as irregular as Elbow Cay – just wide enough to be too far to have a conversation with the two or three folks sitting opposite me. That was okay, too. I was enjoying the beer, the evening air, and the whole Abaco Island vibe.
There was a young guy walking toward the bar from the marina area, and just as I noticed him, I realized he was headed straight for me. He looked like a man on a mission.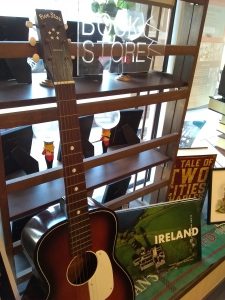 "How ya doing?" he asked, before dropping onto the barstool next to me. We exchanged pleasantries before he came to the point. He was flying back to the US in a few hours and was hoping to lighten his personal effects. "Wanna buy a guitar?"
I didn't really want to, especially after hearing him describe it as a cheap, no-name brand, without a carrying case. Cheap… he said – which turned it into a what-the-heck kind of deal. He promised to run back to his room and return with it straightaway.
He showed up just as I was giving up on him. I dug into my pocket for some cash, and he handed it over. Star brand. Star Guitar. Five Star, to be precise. Never heard of one, but now I was a proud owner. Or at least, an owner.
As he started away, he turned back and said, "Can I play one last song on it?"
It only took a couple of seconds for me to realize he had the guitar set up with an open tuning, so he could change chords just by moving a single finger across a different fret on the neck. He had a nice voice, and did himself proud. When he handed it back, he suggested I play one for him as a way to complete the deal.
I explained that I didn't know how to play with an open tuning, but that if he would allow me a minute, I'd give it a quick reset. After a couple of tilted-head listens and turns on the tuning keys, I launched into an easy James Taylor song – one that I could manage even on a guitar I had only just strummed for the first time. He grinned broadly through the whole song, and when I finished, he laughed and said, "Maybe one more before I'm off?" So I did.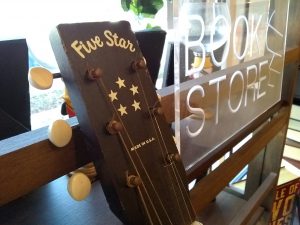 We shook again when I was finished, and after watching him walk away, I knocked back the last dregs of my now – no longer frosty pop. I set the little guitar down on my lap and turned around to face the bar. There were four big mugs of beer sitting in front of me. And those folks who had been sitting across the way? They were sitting on the barstools just to my right.
"Will you play another one?" the lady nearest to me asked. I'm pretty sure it was more the 'ham' in me than any sense of social obligation from the row of beers they had sent over to me, but I launched into another. When I finished, I was flattered to see the bartender joining in the applause from down the way.
The thing is – I'm a pretty hack guitar player. A guy who knows just enough to accompany myself as a singer. And I never have professed to be anything more than a mediocre vocalist.
But I do like to sing.
It may have been the Caribbean moon, or the salt in the air, or the extra tasty drafts that were accumulating in front of me – but there came a cosmic alignment of bar crowd and goof-off strummer. Every song title that was requested over the next hour-and-a-half was – by some miracle – a song I knew how to play, and remembered the words to – at least most the words.
At one point, the woman who first spoke to me leaned in and semi-whispered, "Are you someone we should know?"
"What do you think?" I replied.
She grinned and said she thought I was. Since she obviously couldn't come up with a name, and since I certainly WASN'T anyone she should know, we just smiled at each other with our secret safely kept.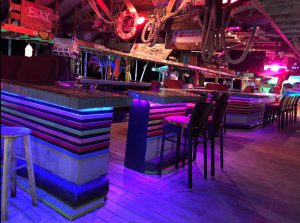 Later, a young man was setting up a keyboard just to my right, and I realized he was likely the night's scheduled entertainer. I was loving the evening, but I knew I was AWOL from the condo and my sleeping wife. So I gave an appreciative thanks and bid the gathering a pleasant evening. As I walked away toting my little Five Star guitar, an island constable who was standing near the bar extended his hand and smiled. He said he had enjoyed hearing me.
The smile the constable gave me, I wore all the way back to the golf cart and then glided back down the dark road to the condo. My wife was still sleeping. The guitar got propped up in a corner and I lay down on the bed thinking there could be no sleeping dream better than the waking one I had just experienced.
Next morning – bright and early – my wife and I took a walk along the gentle surf looking for some beach-side breakfast. We had managed a hundred yards or so walking along on the sand before we saw a figure approaching from the opposite direction. When he drew near, I recognized him as the constable from the Tipsy Seagull.
He took a quick step out of his way to shake my hand.
"Will you be doing a follow-up tonight? he wondered.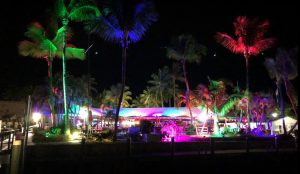 I glanced at my wife, whose puzzled expression told me she had slept uninterrupted through my absence of the previous evening.
"You never know," I answered, "what might happen on an island night."
These days, that Caribbean island refugee sits atop a book shelf in the shop, and occasionally whispers out to me to remember a moonlit evening at water's edge, a night when I was almost a somebody.