Click on any image for a larger view.
__________
Hereward the Wake: Last of the English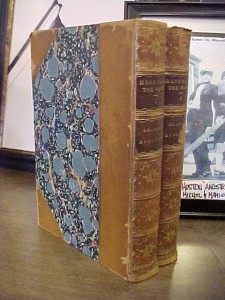 Author: Charles Kingley
Macmillan and Co., London 1881
Complete in 2 Volumes
Half-leather binding with marbled paper boards. Vol 1: 366pp. Vol 2: 353pp. 5" x 7.25" Gilt embossing at spine and top edge of book block. Scuffing at corner leather. Chipped at spine (Vol 2 at author's name: See image). From Wikipedia: Hereward the Wake (also known as Hereward the Outlaw or Hereward the Exile, c. 1035 – c.1072) was an 11th-century leader of local resistance to the Norman conquest of England. Hereward's base, when leading the rebellion against the Norman rulers, was in the Isle of Ely, and according to legend he roamed The Fens, covering North Cambridgeshire, Southern Lincolnshire and West Norfolk, leading popular opposition to William the Conqueror.
Kingley's 1865 novel elevated Hereward to national hero status, and there is conjecture that the tale influenced the legend of Robin Hood. (Hereward is a given name not seen much these days. The term "Wake" was used in the sense of "Watchful" in olden times.)
Price: $69.95
__________
The Works of Cowper and Thomson: Including many letters and poems never before published in this country; with a new and interesting memoir of the Life of Thomson.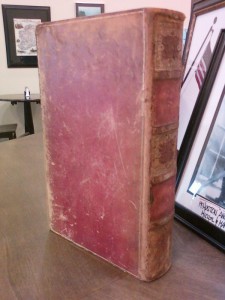 Author: William Cowper / James Thomson
J. Grigg, No. 9 North Fourth St., Philadelphia: 1834
Full leather binding with marbled edges and endpapers. Cowper's Works: 404pp. Thomson's Works: 133pp. 9" x 5.75" Fading gilt at edges of front and back boards & spine. Weathered leather at spine. Bumped corners. Strong binding. Two fly pages removed from front behind marbled free end page. Publisher's ads precede the title page. Frontispiece with intact tissue. Light to moderate foxing throughout. Leather scuffed as expected in a 180+ year old volume.
From Wikipedia: William Cowper (26 November 1731 – 25 April 1800) was an English poet and hymnodist. One of the most popular poets of his time, Cowper changed the direction of 18th century nature poetry by writing of everyday life and scenes of the English countryside. In many ways, he was one of the forerunners of Romantic poetry. Samuel Taylor Coleridge called him "the best modern poet", whilst William Wordsworth particularly admired his poem Yardley-Oak. He was a nephew of the poet Judith Madan.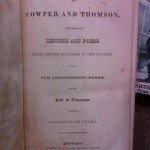 The idiom "God moves in a mysterious way / His wonders to perform" is from the Cowper poem Light Shining out of Darkness.
James Thomson (11 September 1700 – 27 August 1748) was a Scottish poet and playwright, known for his masterpiece The Seasons and the lyrics of Rule, Britannia!.
The Memoir of James Thomson is 34 pages in length and is included between Cowper's Works and the Poems of James Thomson.
Price: 39.95
__________