My father had me on his lap with his hand around mine, showing me how to shift through the gears. Three-on-the-tree, or whatever they called those old steering column shifters. It's the earliest model car I remember our family owning.
1948 Plymouth.
"Maybe you'll be driving this one of these days," said my father. "Maybe pigs will fly," I answered. (Just kidding.)
Back then I thought it was a possibility. Heck, maybe a certainty. I remember several times giving it the car-buyer-once-over. Checking out that sailing ship emblem on the trunk badge, exploring the curved lower door that was almost a running board. A moveable spotlight on the front fender with the grip and switch near the steering wheel. (Not one in the image, but WE sure had one!) Fine stuff. A visor-awning over the windshield. Light-up radio. Little chrome horn bar.
Yeah. All mine. One of these days.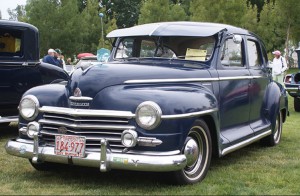 Man, what a beast. As you can tell, I'm driving down memory lane today. As a Craigslist browsing regular, I ran across a picture of a wreck of a Plymouth (project car, as it was described) that will – in all likelihood – remain a wreck until gravity pulls it into the earth's crust.
It made me think about that old blue cruiser that used to sit in our driveway, though.
The whole car thing was an adventure. It belonged to my Uncle Maury and Aunt Evelyn, and they must have bought a new car, because – next thing I know – I'm riding on the train with my father to Wichita. One of the few times in my life I rode a passenger train. We're going there to get a car and drive it back home.
I must have been pretty overwhelmed by the whole experience (I was just a little kid, easily overwhelmed…) because the next thing I recall about the journey was driving for hours and then pulling into my Great-Aunt Eva's driveway. As he shut off the engine he explained to me that we were just there for a pit stop.
"Hello, hello!" said my father to Aunt Eva, who was smiling in the doorway, obviously not expecting us. "Can't stay," he said, as she let us in. He nudged me toward her as he diverted to pit lane.
"You'll have some pie, though," she answered.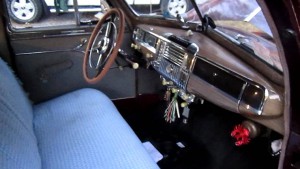 From somewhere down the hall, his muffled voice said something to the effect of 'little time' and maybe something about miles to go before I sleep and miles to go before I sleep.
Aunt Eva leaned down to me. "You'll have some pie." (It wasn't a question she put to me. It was a statement of fact.)
Faster than humanly possible, she drew out the pie, sliced and plated it, and handed me a spoon. It was one of THOSE kinds of pies – all creamy and meringue-y and delicious – the kind that requires a spoon.
Faster than humanly possible, I inhaled it. Hey, it was a kid-covert mission of sorts. I'd heard him say "no time" but Aunt Eva and I set out to prove him wrong, and we did. She anticipated his return and quickly towel-dabbed my face clean before he rounded the corner.
He exchanged the briefest of conversations with Aunt Eva, and then asked if I was ready to go. I nodded my assent, not trusting that the pie was completely swallowed.
It must have been a special kind of hug that Aunt Eva gave me, because – ever after – I believed she was the sweetest, kindest, kid-loving-est Aunt a kid could ever have. And my father and I walked down her tree-root-broken sidewalk to the new car.
The 1948 Plymouth.
Even today, seeing the rusted-out Plymouth in the picture on the internet, I suddenly think of pie and those childhood events we only later recognize as miracles.