I remember seeing his name spelled out in art deco tiles, but never saw him. Riding my bicycle along the sidewalk south of the railroad tracks in McAlester, I stopped more than once to look at a survivor from an earlier time. Saw Mr Chaney's name in those still-colorful tiles, but never saw him – until today.
The tile-work was embedded in the sidewalk in front of what would have been George Chaney's storefront way back when. If memory serves me (which it has frequently rebelled against, of late) there was a Chaney's Funeral Home in McAlester, but – as in the case of many such establishments – it had its roots in the furniture trade. (After a Googling, I found a likely successor to the original Chaney's and with their permission/forgiveness – I've included an image from their Facebook page…)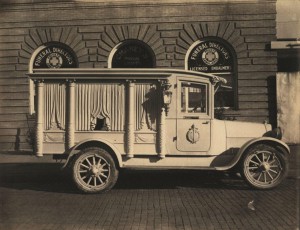 You might sleep at night in your four-poster bed, but that long, long forever sleep would be enjoyed in a box. A good quality end-of-life sleeper would have been constructed by someone in the furniture trade, and that was the business of Mr Chaney when Oklahoma was Indian Territory.
In fact, that's where I found his picture. A copy of Notable Men of Indian Territory came in with a boxful of books today, and being a sort of history nut, I figured I might recognize a name or two.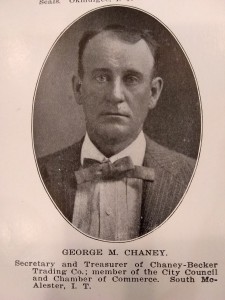 It's a nicely kept book, on the rare side, with engravings by Barnes and Crosby of St. Louis. In the time of this book's publication, the technology to reproduce photographs was in its infancy and most printed material used engravings etched from photographs.
It took some page-turning before I happened on to his likeness. 170-something pages. I feel certain the Mr Rogers from Claremore that I ran across was likely the father or grandfather of Will Rogers, but the remainder of the hundreds of folks included are best known to their own communities and families.
At the time of its publication, George M. Chaney was still in a partnership with a Mr Becker, serving as secretary and treasurer of Chaney-Becker Trading Company. He was a member of the McAlester Chamber of Commerce and served on the city council at South McAlester, IT.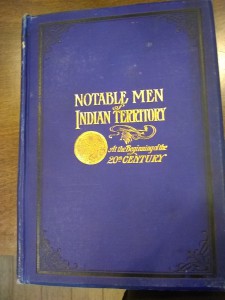 Back then, there were two McAlesters, owing to the placement of the east-west railroad tracks, which went in farther south than J.J. McAlester would have liked. The businesses at the junction of the two sets of tracks were in "South McAlester." Later, the 'south' part was dropped, and – still later – the original town site came to be called "Old Town." (Again – if my memory isn't letting me down… I'm sure some of my McAlester cohorts can set me straight.)
By 1910, George M. Chaney was on his own, and told the US Census enumerator that he was the proprietor of his own 'home furnishing store.' Back in that time, the street where our bookstore resides was dotted with several such stores, which also sold furnishings for funerals.
One thing is clear after looking through the 'notable men' of that period – they were all a dapper-dressed bunch. Plenty of stiff collars, bow ties (and the more familiar Windsor knot versions), and a few uniforms and tophats tossed in as well.
Despite the scarcity of this title, I'm not certain there is a crowd of potential buyers.
It may wind up being one I have packed up with me when I croak. I'll bring the book with me when I get fitted for my "special" piece of custom furniture and all those notables can keep me company.