There was a place called Tink's Auto Mart on South Sheridan when I first moved to Tulsa. I was a lot younger then, and having sold the Chevy van I'd acquired to haul our music equipment around, I was pedaling to and from work on a ten-speed.
THAT's enough to put the fear of the automobile in you, let me tell ya'. It was NASCAR-style driving in Tulsa even back then, but at least the streets (with exceptions) have been widened since then.
I worked in the shopping center across from Tink's, and looking out of the plate glass windows of the store's showroom, I could ogle the British sports cars set out on display. Nearest the street was a tiny little car, which looked like a toy from my vantage point. Sleek looking, but little.
Also facing sideways (to show it in profile from the street) and parked just behind was another sporty model – a little boxier, but quite a bit larger. It was displayed on some sort of raised ramp, so it could be seen over the smaller car.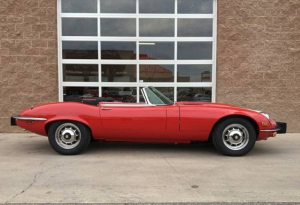 Behind the other two, also in profile, was long, torpedo-looking car – parked on a step-up concrete pad. It was gun-grey and about the sleekest looking thing I had ever seen. And believe me, I looked it over.
Rode my ten-speed across the street several times a week, after leaving work, just to look at those British sports cars. Particularly that grey-coloured (British spelling) work of art. It had twelve cylinders, which to me added up to – FAAST. It had a convertible top. Shifter. Wire wheels, sort of James Bond style, without the razor-tipped knock off caps.
I was working away at my day job, saving up some cash toward another vehicle and really imagining myself in that Great Grey.
Oddly enough, I didn't even look at the price stickers until I had saved up enough that I thought it might cover a down payment. When I had stashed that amount back, I rode my bike over and looked at the cars, and the prices.
The Jag? The XKE grey beauty? Six-thousand dollars. Six thousand dollars, and I wondered who could possibly afford to spend that much money on a car. It was a wonderful machine, but clearly not for me.
The Triumph TR6 was also a good looking ride, I thought. Not so sleek as the Jag. Kinda boxy if truth be told. Six cylinders instead of the Jag's twelve. Still, a nice top end on that wood-dash-mounted speedometer. Three-thousand dollars and change. And change, because the big number was the three, followed by the word 'thousand.' Still out of my league.
And so, I found myself peering into the cockpit of a Spitfire, the little brother Triumph sports car with the four cylinders and a top speed of eighty with a tailwind. It also had a nice wood dashboard, though. Shifter. Convertible.
And a price tag that started with a 'one.'
I was still looking into it when the salesman sidled up and looked me over, gave a loud guffaw (pretty sure it was a guffaw…) and laughingly asked if I was going to use 'that bicycle' as my trade in. He might have meant it as a joke, but if he had intended it to be a snide and cutting remark, he could not have delivered it with more aplomb.
After mentally responding, I mounted 'that bicycle' and rode nearly seven miles through the NASCAR traffic to the other Triumph car dealer at 11th and Delaware. I was out of breath when I pulled up in their lot and was still gathering myself when the salesman approached me and said, "I think I have a Spitfire exactly the color of your bicycle."
I think you just sold it, I replied.
I had a wad of cash in my pocket, and it turned out to be enough to get a set of keys placed in my palm.
If I had placed that car in storage instead of driving it for the next few years, it might be worth six thousand dollars today – maybe a little more to an excited collector. Remember, six-thousand? The price of the new Jaguar back then.
The XKE in the picture is a 1974, a used car, meticulously restored, and – excepting the color – pretty much the car I had ogled all those months from across the street. Asking price for this red beauty listed on Craigslist this afternoon?
$139,000.00
Plus fees. Man.
Although I'm considerably older now and have met some folks who could – I'm still wondering – who would spend that much money on a car? (Then again, just think of my profit margin if I had scraped up the money back in 1973!)
I can always imagine myself running through the Jag's gears with the wind in my thinning hair, even while I'm actually behind the wheel of that thirty-year-old van…