I admit that it's a bookish pleasure, but I love the fact that the books in the stack over there on the counter were in the hands of their authors: Gore Vidal, Joyce Carol Oates, and Joseph Heller. (I should point out that the fourth book in the stack – Great Expectations, by Charles Dickens – was NOT in his hands, as he was about a century gone by the time this fine-binding edition was published.)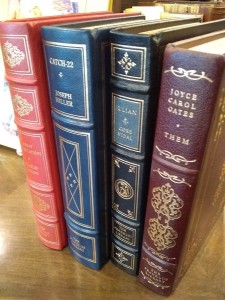 I remember seeing Gore Vidal debating/arguing with William F. Buckley, another intellectual with an aristocratic demeanor that was reminiscent of colonial-era gentry. (Incidentally, Gore wasn't his real name: he was born Eugene Louis Vidal, but adopted the moniker of his grandfather. Thomas Pryor Gore was a US senator from Oklahoma at statehood and was reelected in 1931.)
I don't remember Joseph Heller, but I remember well his book CATCH-22, which was popular enough that its title entered the English lexicon to describe an impossible situation. In the book – which followed a group of wartime pilots – anyone who was legitimately crazy was excused from flying a mission. The conundrum (the CATCH-22, if you will) was that if someone applied for a mental deferral they were considered sane enough to be worrying about their safety, and therefore would be required to fly the mission.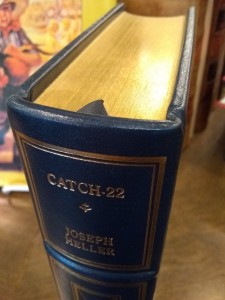 Joyce Carol Oates was a finalist for the Pulitzer Prize several times, and her novel THEM won the National Book Award back in the sixties. It wasn't too much later that Franklin Library published the fine-binding book that I now have a copy of, which she signed with an unfashionable ballpoint pen.
For those of us – mere booksellers and readers – who will never bump into these famous literary figures, holding a book they personally signed is a particularly nerdish thrill.
These beautiful volumes are part of a Deep-South estate brought to Oklahoma and now residing on the shelves here in the shop. There are a good many signed books, beautiful fine binding copies that certainly must have been purchased as investment copies. They appear never to have been read – in truth, they appear never to have had their front covers opened. The edges are perfect, the 22K gold embossing is impressive.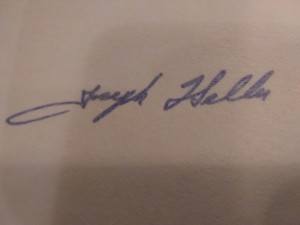 Some – like Jane Austen's works and THE WIZARD OF OZ will not likely stay around long. People know that I'm not a collector anymore (Oh, I have a book or two in the office!) and I price these to sell by finding the lowest offered price on the internet, and beating it. The point being: if you know someone who appreciates leather-bound, fine binding books, this might be the time to take a look. I know it is plenty warm outside, but – believe me – cooler weather is inevitable, and the selection for gift-giving may not last until then.
There are dozens and dozens of books from the estate that are already shelved. Come take a look, and maybe sit down and have some lunch with us – serving a full menu daily from 11am to 2pm.
Come visit!
McHuston
Booksellers & Irish Bistro
Rose District
122 South Main St., Broken Arrow OK!