"Fear," the doctor said, "is the relinquishment of logic, the willing relinquishing of reasonable patterns. We yield to it or we fight it, but we cannot meet it halfway." And later, the doctor was gone, and "Silence lay steadily against the wood and stone of Hill House, and whatever walked there, walked alone."
I used to read books with eerie passages, like this one from author Shirley Jackson (I could give you the whole self-analysis rationale, but I'd rather you make it through to the end of this little note…). I don't read them so much anymore. Like anything else – cars, movies, clothing – the offerings range from cheap and disappointing to over-the-top-stand-up-and-applaud good.
Shirley Jackson's classic scary book, The Haunting of Hill House, is the PHD of Fright, the Mother Superior Sister of Sinister, and the Extension Ladder of top-level terror. But – it isn't one of those with chain saws, fingernail-claws, or soon-to-be-toast teenagers muddling around in dark places.
When I finished the last page of Hill House, I shuddered like a Labrador just out of the farm pond. Wasn't sure exactly what had just happened, but – either way – it was darn creepy.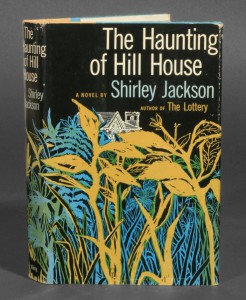 And there are plenty of people who reacted the same way. At its publication in 1959, the New York Times reviewer wrote of author Shirley Jackson: "In The Haunting of Hill House" she has produced caviar for the connoisseurs of the cryptic, the bizarre, the eerie, guiding us along the frontiers between commonplace reality and some strange 'absolute reality' of her own."
Horror-master Stephen King calls it one of the most important horror novels of the 20th Century. And he ought to know one.
There are plenty of books on my "would love to have a 1st Edition" list – and Hill House is on it.
Again.
After years and years of searching (oh, there are a few out there for sale, but not in my price range), I happened across one that I thought I might be able to own. Thought about it. Thought some more. Finally, I decided I wasn't getting any younger, and made the commitment. Felt like a kid with a new grape sucker when it arrived in the mail.
Wrapped the dust jacket in protective archival plastic and put it lovingly on the shelf, where it has been for the past six weeks, and where I have visited it – more than once. Showed it off to my daughter on Monday and asked her to take custody of it in the event of my being run over by a bus.
Yesterday, the book appeared on the checkout counter. Without my putting it there.
When I looked up, there was a somewhat familiar face – a customer who has purchased a number of collectible books from me over the years. I removed the card that indicated the price, and tilted it in her direction.
She nodded and said, "I've already talked to my husband about it. I told him some of my college text books cost this much, and where are they now?"
I had to agree, and – although my heart sunk just a little bit – I rang up the sale and gently placed it in a bag.
It's sort of a running joke – that the books in the shop are a bit like my orphans and it is my duty to find them good homes. I know this one will be well taken care of and appreciated for the special volume that it is.
Would like to have gotten to know that particular book-child o'mine a little better though! In the meantime, I'm back on the hunt for another orphaned copy of the book…which is okay, too. I love a good safari!
We're serving up some hauntingly delicious fare at lunchtime tomorrow, so…
Come visit!
McHuston
Booksellers & Irish Bistro
Rose District
122 South Main St, Broken Arrow, OK!