Believe me. The art of cooking has changed, and not just the microwaves, blenders, and Ginsu knives. Today's recipes are tested in laboratory-type test kitchens, ingredients change, and there is a focus on food safety that wasn't so up-front in the old days.
Then, there are some prep stages that we skip, these days.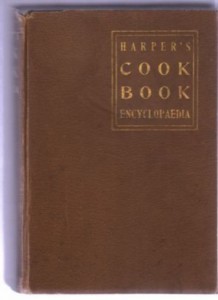 From the Harper's Cook Book Encyclopaedia (1902) and the section on Poultry:
Fowls to be tender should be killed two days before they are cooked. When plucked, singed, and drawn, rub clean outside, and wipe inside with a wet cloth.
I'm betting my grandmother would know the steps to pluck, singe, and draw a chicken. Don't know if those skills were passed on. To be honest, I would have no clue as to whether a plucked chicken had been singed or drawn.
Porridge? Not just in nursery rhymes – but might as well be. The recipe has enough mystery that I wouldn't want to tackle it, things like "a half a pint of whole groats." Even the spell-checker got nervous at that word, displaying its wavy red line. Don't know groats, but they are boiled for two or three hours with water added "if too thick."
Our infatuation with bacon isn't a new thing, but a hundred years ago there was a third cooking method besides frying or baking. After covering the slices with cold water, the bacon was brought to a boil, "removing all scum as it arises," and simmering until thoroughly done. (An hour and a half for two pounds.)
I imagine some of these recipes were traditional family favorites handed down from the 1800's or earlier, with basic spices found in most kitchens. The dishes themselves are almost exotic in themselves. Entries for Beef Tongue (4 versions, including "smoked, a la Marigold). Sheep's Liver, Fried. Scotch Haggis. (I've seen this one at the Scottish Festival, but admit to not having tasted it. Seeing the recipe just now reaffirms my decision to pass on that vendor's offerings.)
And here is "Beef Stew, Irish." Not accomplished in quite the same fashion as our own recipe, but I'm sure the result was quite tasty when our cars were basically carriages without the horses with the addition of a loud, pockity-pock engine. (That's a 1902 Oldsmobile in the picture, the same year the cookbook was published. That year, most folks would walk or travel on horseback, a fact of life that remained until well into the next decade.)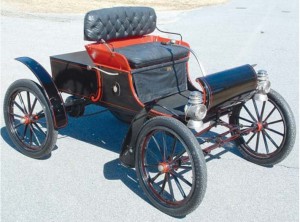 Here's some advice from back when that car was just introduced: "When the blue smoke arises from the fat, a small piece of stale bread should be dropped into the kettle. If the bread is browned in one minute, the fat is ready for frying breaded chops, croquettes, fritters…" Not sure those instructions are as sound today as back then. I was taught that when smoke "arises from the fat," the next stage is flames, as in – grease fire!"
Stuck into the pages of this old cookbook is a newspaper clipping with three recipes. Turning over the old, yellowed paper revealed a column of classified ads, and after completing a little investigation, I'd wager this paper came from Spokane, Washington at about the same time the book was published. (By 1909, Ed McCaffrey was teaching plumbing, but was still listed in his advertisement as being on Riverside avenue, with the same telephone exchange.)
The last ad on the page? The BOOK NOOK HAS A BIG LIVE live line of popular fiction, etc. We buy, sell, exchange.
Some things don't change.
Come in for books or lunch, or books about preparing lunch!
McHuston
Booksellers & Irish Bistro
Rose District
122 South Main St. Broken Arrow OK!