A Happy St. Paddy's Day to one and all! (and a bit of a sighing on our part that we have gotten through it…) Corned Beef, Shepherd's Pie, the occasional beer – green or otherwise.
We've had the experience of a few years to build on, but there is that old saw about the "best laid plans." Today there were more crocks of food in the kitchen than last year when we ran out early. Better prepared this go 'round – but then, this year more people arrived at our door at lunchtime and once again we sold out.
Better to sell out than throw out, is my way o' thinking.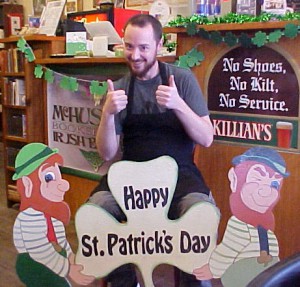 A special thanks for the kind restaurant review by Mr Scott Cherry of the Tulsa World – published on Wednesday – which was responsible for a number of our St. Paddy's Day patrons. (Thanks also to our regulars, including a few who only visit for the annual wearin' o' the green.)
I've described St. Patrick's Day as an event similar to surfing a big Oahu wave, leaning in to the point of wiping out, but managing to ride it to completion. We were at that point today for a few moments, when it seemed like we might be thrown head-first from the board – but then wound up gliding in safely onto the sandy beach.
Afterward, we decided that it could not have been possible if Kathy Hoefling Williams had not been managing the cash register, refilling drinks, and clearing the vacated tables. She had already left us by the time we acknowledged the fact, so this will have to serve as a heartfelt Thank-You Kathy! until next time we see each other.
I have no false pride in thinking I could have run the floor by myself today… if Alicia Davis had not put on the shamrock shirt and the apron and came to our aid, our lunchtime party could have been a wipeout of highlight reel proportions. Hugs of appreciation to both ladies for the ready smiles amidst the hard work.
Since the plan was to prepare enough food to serve an estimated number of diners at lunchtime, and since we met the estimate (even if our guess turned out to be a bit of an under-estimate) – the day must be considered a success. That achievement is due to the hard work, long hours, and sleepless nights of Dustin Hoefling, whose St. Paddy's Day fare was on a par with any green-beer-presenting establishment in the entire US.
Sometimes we forget that those plates of food start out as planning and purchasing, followed by a heap o' cutting and cooking. Dustin was in the kitchen well into the evening several times this week, and dragged himself out of bed before 5 am Friday to make sure everything was in order.
All I had to do is trot from table to table and claim complete credit (just kidding there, Dustin…).
As I type this, the other Irish-themed spots are gearing up for the second wave, that hectic white-water ride that is St. Paddy's Day partying on a Friday night. Someone asked if I planned to have an Irish evening, and I thought of Kilkenny's, McNellie's, and Arnie's and their annual Tulsa traditions. Thought about my old roommate Kenny Wagoner from Paddy's Irish days, who has revived the brand and reopened under that name at 101st and South Mingo, and who will be having a particularly long night of it.
Then, I thought about my own long day, my tired feet, and the bed. St. Paddy's Day will be back again soon enough.
Tonight, the bed gets my vote.
Thanks to all who came by for our modest party, (particularly those of you who had to wait for an available table), and may the Luck o' the Irish be with all of you until next year!
McHuston
Booksellers & Irish Bistro
Rose District
122 South Main St. Broken Arrow, OK!