A magazine mention!
It used to be the case that I would agree with that old axiom – all publicity is good publicity, as long as they spell the name right. In the post-H. Weinstein era that we live in, I'm not sure that adage is still on the mark.
But – as it is press coverage of a positive sort, and puts us in slightly exclusive company, I'm quite pleased to see us included in Scott Cherry's list of the Tulsa area's "Hidden Gems."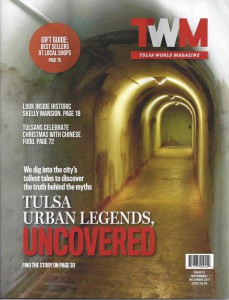 In the Tulsa World Magazine, Issue 13 – just out – Mr Cherry says "In a metro area the size of Tulsa, most everyone likes to frequent what could be described as hidden gems – restaurants with loyal followings that largely go unnoticed by the majority of diners."
While I hate to think of our place as "unnoticed," I recognize that we don't have a large following like the big-boy restaurants. Give that we have only two employees – Dustin and me – it's probably a good thing we don't have a hundreds of folks lining up at lunchtime.
Even I had to admit that many of the other restaurants named in the article were previously unknown to me. (Although it isn't surprising, given that I don't get out all that often…)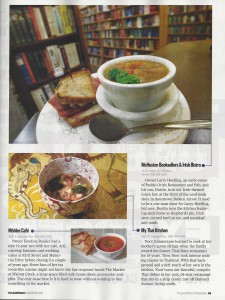 It was nice of Mr Cherry to include us in his list, and I'm proud to be among his ten favorite "hidden gems" in the Tulsa area. If you missed his list, here is a link to the slideshow.
It should be said that Scott's columns have quite a following and even the mention in his list has resulted in several phone calls and lunchtime first-timers.
Judging from the photographs that were included in the article, there are some some pretty dishes being prepared out there, and – obviously – some pretty tasting offerings that are under-the-radar. And – like our lunchtime service – it appears many on the list are the product of owner-chefs and relatively small staffs.
Knowing what a tough business the food industry is, I'm was pleased to see that there are some real veterans out there, like LaRoma on South Sheridan in Tulsa. Thirty-plus years!
We're in our twelfth year on Main Street in Broken Arrow, offering lunches for about half that time. I've worked some really, really busy places, cranking out food – and I have to say there are some positive aspects of being a "hidden gem."
Particularly at washing dishes time.
Come visit!