Mystery solved. At least partly.
Over the past couple of weeks we've had comments about our "ad" or "article" from folks who have come in for lunch.
Huh?
Today, the gentleman making the reference trotted out to his car and grabbed his copy of the magazine, which he had brought as a guide to our location. Wow! A full-page article, complete with photographs, hours, phone number, and website address.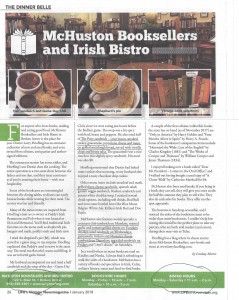 Not only that, but it was a nicely written, flattering article, that was pleasing enough to me that I read it twice.
Lindsay Morris is the author, and I owe a debt of gratitude for the kind press, however surreptitiously researched. Guerilla journalism, in a way, because – you would assume that someone would be noticed as they moved about a shop taking pictures.
Not the case.
In the immortal words of Sgt. Schultz (Hogan's Heroes, Google it…) "I see NOTHING! I know NOTHING!" Granted, the photographs were taken during the lunch hour, when I was more than likely trotting around from table to table, old man style.
Reading the article, I did recall a brief exchange with a lunch guest – specifically, a book title mentioned in the article and the specifics of a shepherd's pie presentation. Didn't know I was being interviewed for a magazine article though.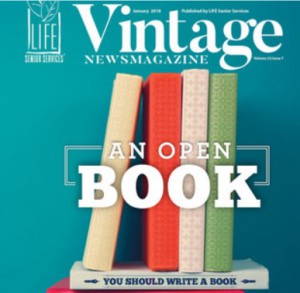 Having done a number of Q and A sessions (on both sides of the reporter's notepad), I'm guessing that was among the most painless ever, with about as pleasing a result as could be expected.
Obviously, the magazine has a readership, since it has been mentioned here in the shop several times already, with its January 2018 date.
Our thanks to the author and editors for honoring us with an inclusion!