It's got to be a sign of the impending Apocalypse! WHAT?
As an admitted Shadetree Mechanic, I have tackled projects from refrigerator thermostats to British sports car rod-bearing replacement. Some projects turn out better than others but almost all provide examples of my own version of Murphy's Law.
For instance:
If it is connected with plastic, it will break.
A dropped small object will bounce to a point just out of reach.
It is always the 'other' type of screwdriver required.
The importance of leftover parts will only be discovered when reassembly is complete.
Custom fittings will not fit.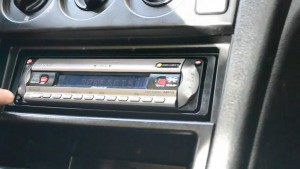 I have enough of these to be called a manifesto, but you get the idea. That's why I am currently astonished.
I bought a new car radio to replace the one my business partner had installed for me 17 years ago.
You need a CD player, he said. Cassettes are out. CDs are the thing of the future.
It's a nice Sony, professionally installed, and I haven't played a CD in over a decade. So my project for tomorrow is to install a replacement to stream music from my phone. (Am I on the cutting edge, or what?)
I Googled YouTube for hints on how to get that old one out. This is now my favorite all-time 'how-to' video:
(It gets better and better as it goes along. Spoiler: he says 'thin.' I thought his advice stated the tools must be made of 'tin,' and that he was failing to follow his own instructions.)
After watching him struggle with it (assuming there were numerous outtakes that didn't make the internet), I was prepared to head off to Best Buy to find the correct radio removal tool. But I had a few extra minutes, and…
The face plate popped right off, of course, but the thin plastic border piece that I knew was going to break… didn't. Instead of jamming steak knives into my car dash, I wiggled a couple of exposed prongs… and the radio slid right out. The big plastic dash board facing – installed 17 years ago – for the smaller sized Sony radio… of course it was going to crack and break under my prying screwdriver.
It didn't.
The wires were long enough that I could pull the entire radio free and reach the harness. Which unplugged with the least effort imaginable. The antenna wire already had the correct end piece for the new radio. My aftermarket harness adapter (purchased separately) actually fit and the wire colors matched correctly.
I'm admitting to you right here – that at each stage – I said aloud: UNBELIEVABLE! Or INCREDIBLE! Or some similar form of spoken astonishment.
The radio and all parts of the fascia were out and sitting on the passenger seat in less than four minutes. I usually spend that length of time looking for my needle-nose or trying to prop up the flashlight so I can see the plastic I'm about to break.
So rare when paid-forward Karma comes back all at once. So rare, in fact, that I'm worried about how tomorrow's installation will go.
Extremely worried.
But at least I've got YouTube to turn to…