Congratulations to the Kansas Jayhawks, who – by default – should be considered the 2020 NCAA Basketball Champions. Since the games aren't to be played, it is one of the rare occasions where the 'on paper' analysis might have to stand. (Remember, they always say – "That's why they play the games" – to account for upsets.)
There will be no Cinderella Stories, no "Diaper Dandies," and no Bracket Busters.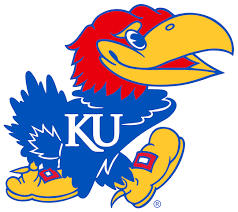 But, that doesn't mean that no recognition is due. It is not outside the realm of possibilities that the Associated Press final Top 25's top four teams could have represented the March Madness Final Four, and that would have had two Big 12 teams in the National Semi-Finals. Baylor occupies the fourth spot in the final rankings.
Beyond having been born in that state, I have other reasons to hold the Kansas Teams as my backup favorites. My parents were alumni. I stayed a summer in the "Little Apple" building a boat marina, (staying for the duration at the Jayhawk Junior Motor Hotel).
Then, there is Kansas Head Coach Bill Self – who wasn't exactly a 'regular' at Paddy's – my restaurant in Tulsa at the time – but was certainly recognizable when he did come in.
We had televisions at each end of the bar, and one evening the sports news was about the rumored pursuit of Tulsa University Coach Bill Self by another university. Just as I walked past the TV, the announcer said something like "Coach Self could not be located for a comment." I glanced over to a table by the wall and said, "Well, he's located right there!"
It turns out – he WAS being recruited that night, and shortly thereafter departed TU for Illinois. He was in the restaurant on my son Dustin's twenty-first birthday as well that year, and was gracious enough to come over to the birthday table and shake hands and extend 'Happy Birthday' wishes. It's hard not to root for a busy guy who'll still take the time.
So, I'm hoping that Kansas will hang a banner, and that Baylor (and all the other teams) will give some sort of recognition to the players – particularly the seniors – whose trip to the Big Dance was cancelled, for the 'what might have been' that will never be.