Craziest St. Patrick's Day ever.
Not to say it was CRAZY crazy…not like past celebrations where there was a line of folks waiting outside the door, hoping to get a prime table, one near the band – which wasn't scheduled to start for hours.
We did have some early arrivals, people who had called. People who were advised to get a spot early, since the uncertain times dictated the cooking of smaller quantities. Turns out Dustin cooked just the right amount, we sold out of his corned beef special toward the end of the lunch service. There was one little sliver left for my plate.
No, it was Crazy, in that it went so smoothly – no pressure, no confusion. Except for a couple of typing errors on my part, there weren't even any mistakes between the kitchen and the tables.
That's CRAZY!
Certainly, some unsettled times in the restaurant business right now. My drive through the Rose District usually has cars in every space in the block to our south, where the Breakfast restaurants are located. Mostly empty spaces today.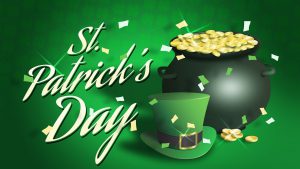 Having read about the various states that had ordered restaurant and bar closings, I half expected that to be the case this morning. The Brunch spot had its OPEN sign flashing in the window. There just weren't any customers.
Dustin and I wound up serving a pretty good crowd – not a St. Patrick's Day crowd, by any means. But for any other day of the week, it was a good turnout. He had doubled the amount of Irish Stew he normally prepares, so it was a busy day in which we had no concerns about running out of food prematurely.
Some of our St. Paddy's Day regulars were among the missing, but given the government and health care warnings about public gatherings, it was no surprise. I believe we were in compliance with the occupancy limitations most of the time. People came and went, the tables are well-spaced, and my disinfectant bottle was quick-draw holstered.
We don't know what the future holds. Tulsa's food service industry has been ordered closed as of this evening. I hope that Arnie's, Kilkenny's, and McNellie's can do a fair business before midnight strikes. Back in my days at Paddy's Irish, I used to tell folks that the holiday was – for us – Christmas, New Year's, and everyone's birthdays, all in a single day. It has to be much the same for the Tulsa area Irish establishments.
Unlike most restaurants, Dustin and I don't have a service staff that we would be laying off, or cutting back on hours. Staff members become like family over time, and I can imagine how tough those meetings in the office are going to be. How tough the realization that the rent is going to come due April first and this is only the 17th of March and how will that money be raised between now and then. Of course there are exceptions, but I've known a lot of servers who found rent-budgeting a tough thing, even in good times.
It has been heartening to answer the several phone calls this morning from regular customers who are worried about us, about whether we will be able to hang on. Several have promised to order some carry out meals. One of the bankers asked how many meals a day it would take to keep us afloat, and offering to call in some orders. I tell you honestly, it almost chokes me up to think that our neighbors would think about us so kindly.
There's no denying that we are nervous, but it isn't a crippling fear. More of a cautious observation of the times, the news, the uncertainty, and the collecting of the emotions that will allow us to take the punches, take some deep breaths, and carry on.