A decade of books is just about in the books.
During that span of time, Broken Arrow's Main Street has undergone significant changes, and – while they are less dramatic – the Rose District (as it is now called) is still evolving.
Some of the modifications are long-term, like the planters currently being constructed in the block between Dallas and El Paso. Others are designed to be short-term, like the installation of an ice skating rink at the Farmer's Market Pavilion. Judging from the number of skaters I saw the other evening, it has been well received. Who'd have imagined ice skating in Broken Arrow, Oklahoma?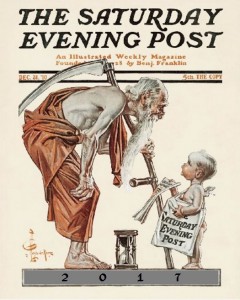 Ten years ago, I would not have imagined serving lunches in the bookstore. It was a plan that grew out of the location change, and the popular acceptance of digital reading. Didn't know what might become of the book business when people began reading on their tablets, but I believed soups and sandwiches might have a continuing appeal.
It's been a journey getting from 2006 to 2016, and some of our shop-owning neighbors have moved on to other things while new folks have refurbished vacated spots and hung out their own shingle. (An old expression, dating back from when a lettered roof-tile indicated the business being conducted inside – I'm compelled to try to keep vintage sayings around.)
As we wrap up the year and anticipate the beginning of 2017, I'd like to thank each of you who might have popped in and bought a book in those first five years. You kept the shop going long enough to reach the second five years and the opening of the bistro kitchen.
Another heartfelt thanks goes out to those of you who stopped in and bought a book, or a soup and sandwich during these past five years, and particularly those of you who remember when I was serving soup solo.
We're headed toward three years together – Dustin and I – serving up plates of food at lunchtime. Some of our guests remember times – early on – when they might have been at the only occupied table in the house.
We've lasted ten years on Main Street only because people have helped us pay the rent and utilities by buying something, whether it's a book or a meal. Dustin and I know there are many – many – places to eat lunch in Broken Arrow, and we are grateful when you allow us prepare lunch for you.
We genuinely appreciate your business, and your friendship. From our family to yours – may the New Year be filled with happiness, discovered dreams, and lasting good fortune!
McHuston
Booksellers & Irish Bistro
Rose District
122 South Main Street, Broken Arrow OK!