I remember some light-hearted fun-poking when it was discovered that former president George W. Bush had taken up painting in his retirement. It may be that the teasing was a little premature.
His latest book (he has had more than one on the best-seller's lists) – his latest is called Portraits of Courage, a collection of military veterans paintings done by the former president. I didn't really study his early works – a couple of self-portraits were among the earliest – but I know from experience that it is much easier to put down criticism than it is to pick up a brush.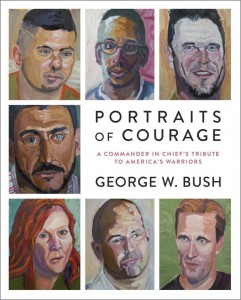 When the book arrived in the shop today, I was immediately impressed with the cover. Boxing in the title are a series of portraits that – taken at face value (nyuk, nyuk, pun intended) – are fairly striking. Stylized faces in soft colors.
Most artists of any note have their own technique, and if the result is supposed to look exactly like the subject, then a cell-phone photo ought to suffice.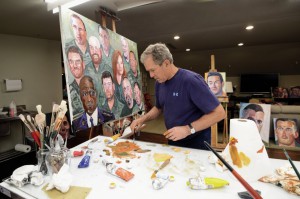 Of course, President Bush has had a few years to work on his technique: two terms and a swearing-in ceremony's worth of time.
I'd say he's made the most of it.
It may be favorite-son status, or former US president notoriety, but a collection of the original portraits is currently on display in Dallas, and the book is currently on display at the top of a number of national best-seller lists.
He writes in the book that he isn't sure how his efforts will be received, due to his status as a "novice" – but he adds that "each painting was done with a lot of care and respect." His efforts in those regards are apparent. His may be a quick ascent to the book lists and art galleries, but then again – maybe he paid enough dues in a different arena to legitimately bump up his place in line.
At lunchtime today I spotted someone looking over John F. Kennedy's "Profiles in Courage," – published in 1961. I can easily imagine someone giving President Bush's "Portraits in Courage" the same consideration in another half-century.
Providing that these things called "books" are still around then.
Come visit!
McHuston
Booksellers & Irish Bistro
Rose District
122 S. Main St. Broken Arrow OK!