Someone will surely note that I have waited too long to unburden the closet, since I am about to describe some of the contents as Vintage. Without question, I have put it off longer than I should have.
I have gathered up and relocated the hangers of stuff several times over the past quarter-of-a-century, through various moves. I keep the closet pretty organized: the few shirts and pants I wear regularly are on hangers nearest the door, and the rest are packed in so tightly that it works as a passive system of ironing.
Not to go too deeply into it, but my rationale – I think – has been, "I'm sure I'll wear this again when I lose the water weight." They fit nicely back in the first Bush administration.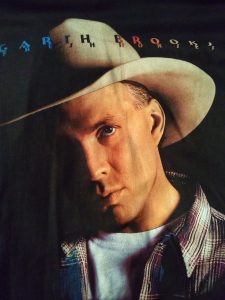 There may have been a singular alignment of the moon and stars, but – whatever the cause – I was compelled to pull down some of those dreaded wire hangers and try to find something in the vintage wardrobe that would, as they say, Spark Joy.
Some hours and very little sparking later, I actually came across a couple of things that at least initiated some favorable reminiscing. This is where the Vintage part comes in, since I have wearable items older than Millennials.
The never-worn Garth Brooks concert tee brought a smile. My daughter was a big fan, and I was happy that – despite the surely-present high school peer pressure – she allowed her old dad to take her to the concert at Driller's Stadium. It was a lot less country and a lot more show-biz than I expected, but everyone had a good time.
I think the concert softened my reaction when I later discovered that she had re-programmed all the buttons on the car radio to country music stations. Turns out, country music is pretty bearable, except so many contain lyrics that describe my life in embarrassing detail.
Bonnie Raitt was my musical crush, and what I wouldn't have done to rescue her from that sad, dreary life of fame and fortune. I watched her as an opening act for Jackson Browne in the early 1970's – so poorly attended that she suggested we just move the chairs and roller skate! Still a good show for fans…
The concert tee shirt is vintage, but a little later in her career, when she drew crowds as the headliner. It was a birthday present to me that we flew to Peoria, Illinois for a pre-show meal al fresco on the river and an outdoor concert at the zoo amphitheater. One of my most-enjoyed birthday gifts!
Sting was looking all Moody for his concert tee pose: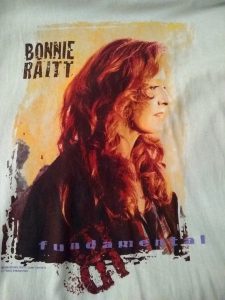 The tour started at the Hard Rock in Las Vegas, and I am too ashamed to admit what I paid for the tickets… It was a great show, though – a really small venue with forgiving fans. (He forgot the lyrics to several songs, and started over on one.) Another never-worn closet-pressed concert tee of the vintage sort.
Perhaps some joy has been sparked in remembering those events, but the question remains – What do I do with these old shirts?