The exact chain of thinking is already lost, but Dustin told me he was going to a concert this evening and suddenly I'm reminiscing about a random show I once attended.
Somebody on Facebook mentioned The Eagles and now I'm trying to recall my own history… wondering whether I had seen them opening for the Rolling Stones (nope, that was Stevie Wonder) – searching the internet for clues to my own past, then BAM!
There's a memory, courtesy of David Dean and the Tulsa Poster Project.
Bonnie Raitt, opening for Jackson Browne at the Tulsa Assembly Center. How well I remember it!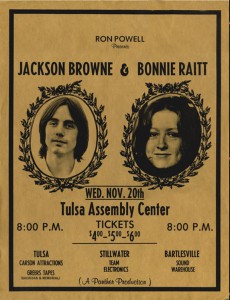 That's a lie. I remember the show pretty well, and some things vividly. Other aspects that might have been important at the time – nah, not so clear. Hey. It was 1974.
I remember I was poor as a churchmouse, working as a 10-speed bicycle mechanic while attending broadcasting school. Money was so tight that I couldn't eat on Saturday until after the weekly paychecks were handed out (after lunch). The girl behind the counter at Burger Chef (where I ate almost every day) figured out my dilemma and starting slipping a little hamburger across the counter to go with my Saturday Cola-only lunch.
It occurred to me that I could return the favors and ask her to go see the just-announced Jackson Browne/Bonnie Raitt concert (okay, so my little Chef was cute too…). Saved up. Bought tickets.
Not so clear these days whether she suddenly changed jobs or whether I was too chicken to ask her out. At any rate, I made it to the concert… probably by myself. (Did I mention that some parts of this memory weren't as clear?)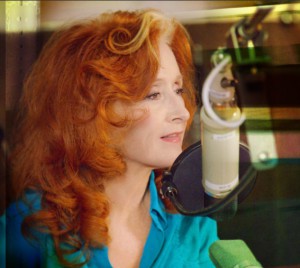 Maybe it was the fact it was a Wednesday, but even the cheap seats were great. There weren't enough people to fill the floor area of the arena. There were some folks seated in the first section on either side of the stage, but they weren't much closer than anyone else.
In fact, when the spotlight first hit Bonnie, she grabbed the microphone and called out – "Is this everybody?" and pointed out at us. "We ought to just clear the chairs out and rollerskate!"
We made up for our lack of numbers with enthusiasm. None of us was disappointed in the performance, and I was only slightly embarrassed when one of us in the audience shouted out "Rock and Roll!" in the middle of one of Jackson Browne's tender ballads.
How I first heard of Bonnie Raitt also escapes me these days, but I believe I was as anxious to hear her perform as I was the better-known Jackson Browne.
I know it was my ol' buddy Mike that drove us down to the Rolling Stones concert in Texas, where we were surprised to learn that Stevie Wonder was opening the show. And it was Mike who occasionally lent me his glasses during the show so I could see the stage from the nosebleed seats we were in.
So, Mike, if it was you sitting with me in the Browne/Raitt audience, it wasn't so much forgettable – just Burger Chef Girl: Plan B.