It's always fun for us – booknuts – to run across a book that is little out-of-the-ordinary. When we take in an estate of books, there is always that crossed-finger approach while going through the various boxes, hoping for a treasure.
It happened about fifteen years ago, when we were new on Main Street – before the Rose District was even an idea – when a young couple brought in an oversized box of books that they wanted to sell. The box was big enough that I thought time could be saved if we could just agree on a price for the whole thing.
Their price seemed reasonable, so I paid it. After they left, I began unloading the box – books I had just paid the asking price for, sight unseen. When I had removed a couple of layers, I began to sweat.
They were mostly just – well, junk – I hate to say. Money was even tighter in those days, and toward the bottom of the box I was wishing I had just kept my money. Right down to the last layer, where I pulled out a hardback first edition copy of Harper Lee's, To Kill a Mockingbird.
Talk about joyous relief!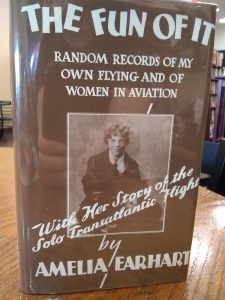 The most recent collection to be rolled into the store had a mixture of titles and genres, and I was pleased to run across an interesting title. Once I took a look inside, I allowed a little grin.
Amelia Earhart, who was lost at sea and died way before her time, has been the source of stories, legends, and rumors, since her plane disappeared. Despite her loss at age 39, she had already made a mark as an author in addition to her many aviation accomplishments. According to a Wikipedia listing:
Earhart was a successful and heavily promoted writer who served as aviation editor for Cosmopolitan magazine from 1928 to 1930. She wrote magazine articles, newspaper columns, and essays, and published two books based upon her experiences as a flyer during her lifetime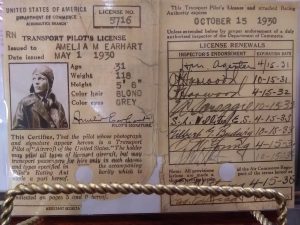 One of those titles was The Fun of It, published in 1932, which had nearly gone to press before her transatlantic solo flight of that year. The publisher managed to get an add-in chapter and a front cover acknowledgement of her accomplishment before the book was released.
It isn't a perfect copy – an ex-library edition that was delisted as surplus at some point – with a black remainder mark on the top. But it still has a scarcity factor that makes up for it. It is a solid copy with an art-copy dustjacket, with the bonus attraction of holding a photographic copy of Ms Earhart's pilot's license inside the front cover, complete with signature.
Since her story is one of continued interest and speculation, I'm thinking some aviation fan might enjoy having this scarce 1st Edition copy in their library.
In the meantime, I'm enjoying having it here in the shop!