Dustin bailed me out again. Thanksgiving meal in the works and I haven't made gravy in such a long time that I'm trying to remember the steps, and then – Dustin walks in.
Thank Goodness!
Except, I really shouldn't be thanking "Goodness." It's better said as "Thanks, Dustin!" Easy to take the expertise and help of others for granted, and – if for no other reason – Thanksgiving is a time for reflecting on such things.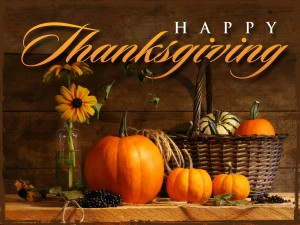 The newspaper reporter popped in and asked what I was thankful for this year. I didn't want to create an entire laundry list, but truthfully, there are enough things that I could write a week's worth of these articles.
As retailers, our family can't travel over the holiday because the shops must be opened on Friday and Saturday. We never have a long weekend at Thanksgiving like others. But, like I told the reporter – I'm thankful that we can get together and share a meal and some conversation even if it's our small gathering.
Instead of going out to eat this year, we turned the lights on in the Bistro kitchen this morning and cooked up what amounted to a feast – complete with stuffing and sweet potatoes and pie. Dustin bailed me out on the gravy for my mashed potatoes.
All is well in the world. At least, our small corner of it.
And I'm thankful for that.
Sometimes the small gatherings can be better appreciated than the crowded and boisterous reunions. Our family has had all kinds, but I'm especially thankful this year for the intimate meal and get-together. We decided that – separately – we don't do much cooking just for ourselves and things like green beans and cornbread stuffing don't wind up on the dinner table regularly.
Even though we were informal, I mentally reflected on the Thanksgiving idea.
I'm happy to say publicly how thankful I am for the many guests who allow us to serve them at lunchtime, and those who come in to find a book. I know there are other options out there and it means a lot to have people choose us. There are a number of guests who are known by name by now, and I wish we could have offered them a place at our table.
But people have their own traditions and holiday expressions. So, I'll just pass along that – during our own little Thanksgiving get-together – so many of you are in our thoughts and our hopes for your own Happy Thanksgiving!
Come visit!
McHuston
Booksellers & Irish Bistro
Rose District
122 South Main St. Broken Arrow OK!