They said, "Take cover." I thought it over.
Storms as predicted Saturday night, and I realized as I looked out at the flashes of lightning that there are different stages of reaction to imminent danger.
When I was chasing the weather for Channel Seven it was at that stage of my young life in which I somehow thought myself indestructible. It never entered my mind that the storm was a thing of reckoning, something that could have picked up my puny newscar and tossed it in a ditch. (A TV-logo-on-the-doors Ford Pinto, for those of you who might remember that clunker classic…)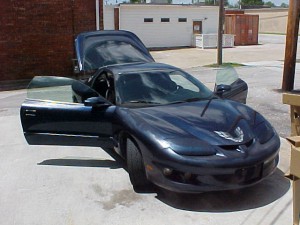 It wasn't even an adrenaline thing. Never been one for bungee-jumping, cliff-diving, or parachuting. (Leaping from a perfectly good airplane, as my good friend Michael used to describe it.) Driving toward a tornado was just what the job called for back then.
Then, I hung up the camera and the microphones and found myself on the other side of the media – with children. Whoa. The sirens took on a completely different message. Closets became shelters to herd and hide the kids. Late night, or not – you just don't take chances with the lives of others who depend on you.
The thunder boomed last night and I clicked the remote. Patches of radar red immediately filled the screen, and I considered the excited voices of the TV team and their spotters. (Some might have described the voices as panicked, I don't know. They seemed pretty worked up.) Broken Arrow was mentioned so I got out of bed.
Trees in the backyard were almost motionless. I could see flashes to the south. The city is much larger than it used to be, and a tornado strike could be miles away and still be local.
What are the odds, I wondered – then crawled back under the covers. I enjoy sleeping in a thunderstorm. Go figure.
Those dire warnings certainly weren't wasted in the case of the several homes hit in the southeast part of town. But I realized at the time that things have changed greatly from my indestructible days. (Daze.) Now, I can assess the situation and make a decision while knowing there may be consequences. Not crazy stuff. If those trees had been flapping I would have leaped in the bathtub.
Damage was mostly to my pride when I emerged this morning. I hadn't rolled up the passenger window all the way. Thunderstorms seem to know things like that. The picture shows the FEMA-approved method of flood recovery. Open it up, and air it out.
We'll be whipping up a storm at the shop tomorrow, so – Come visit!
McHuston
Booksellers and Irish Bistro
Rose District
122 South Main St. Broken Arrow, OK!