The bridge had evenly-spaced expansion joints, and when we roared over it, his Mustang would rise and fall with each dip in the pavement. Craig would point out that we were "riding the Mustang" and we'd laugh about it every time.
I was in high school but too young to drive. He had a bright and shiny Mustang that had to have been a 1965 model, or somewhere in that ballpark. It was a nice car. Not brand new, I don't think – but nice.
It seems crazy now, but I don't remember a discussion about why he changed from the speedy Mustang to a Volkswagon Beetle. It just sort of happened one day. No more Mustang. We were reduced to racing around town at the speed of slug. As in – slug-bug. (They weren't Super Beetles back then. A lot of putt-putt. But fun.) Country roads, lake access stretches, Carl Albert Parkway down to Tandy Town and back, around to the A&W and then south to the Sonic.
Then start over.
That was small town life in that time. Maybe still is.
Parked just outside the front door today was a time-travel machine. At least, that's the effect it had on me. A beautiful red Ford Mustang that had to have been completely restored to its original glory – since I don't think any car of its age could have survived so long, looking so pristine.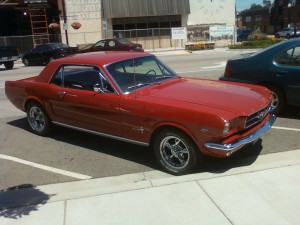 I dragged Dustin out of the kitchen to have a look at it. Made him peek inside at the gauges and steering wheel – a couple of the classic features. He was patient with me, taking it in. I knew a car like that doesn't provoke the same emotions for him. It was a beautiful car to look at and he could appreciate it for what it was. It was a thought-starter for me. Impressive enough that I got the phone-camera out and snapped a couple.
Just looking it over brought all sorts of memories crashing back.
It seems to me that – the more time that passes since my high school days, the fewer occasions I have to think about that era. (Mesozoic, I think it was…) Oh, there are the occasional pictures shared on the internet that inspire memories. But there is nothing like a brilliant red time-capsule-condition Ford Mustang to make me smile and think about some wild-eyed things and… What were we thinking?
One of these days, I will be rich and famous enough to attend my high school reunion (don't be holding your breath on that happening soon). Until then, I'll commune with my former classmates in some of the just-remember-the-good-things recollections that are brought on by an impressively painted machine outfitted with bucket seats and a 289.
We're in the Rose District! Come visit!
McHuston
Booksellers & Irish Bistro
Rose District
122 South Main St. Broken Arrow OK!