You might not notice it while driving through the Rose District, but there is a ceremonial flag flying over the First National Bank's construction project. It's the familiar red, white, and blue, but in olden times it might have been a small tree up there.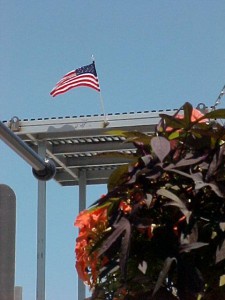 Steel workers call it – 'topping out' – a building, when the last beam is put in place when framing a structure. It's a practice that dates from ancient times and Scandinavian origins.
Back when faeries and wood nymphs and their associates were believed to populate the forests, builders knew that cutting down a tree as part of a construction project would affect the habitat. To appease the spirits, a tree was placed atop the completed framework before the interior and exterior work continued.
The practice migrated to lower Europe and crossed the Atlantic and has been most often illustrated in modern times with the setting of a flag on the final beam by steel workers on skyscraper projects.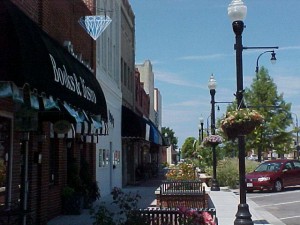 I'm not sure whether First National's new tower qualifies as a high-rise, but it is certainly tall enough that I wouldn't want to be the one raising the flag up there.
Folks are still asking what business is going in there. In their defense, vehicles are regularly parked in front of the fence where the artist's rendering of the completed building is hanging. And, since the lettering of the bank's name has been removed it lends to the impression that they have moved out.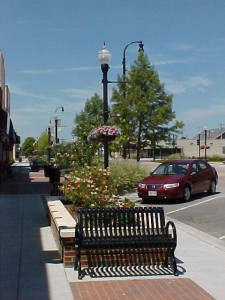 I understand some of the newly remodeled offices are now in use, and that staff members who have been jammed up in the south part of the building are preparing to move again so that part can be updated.
Despite the construction projects that continue through the heart of the Rose District, the streetscaping efforts are beginning to look settled-in – as opposed to looking 'recently planted.' The saplings that went into the ground are nicely shaped trees and the hanging flower baskets that are new this summer are all looking great, despite the heat wave.
This far into the summer in years past, the greenery was usually all reduced to brown-ery.
If you haven't been 'round lately, we've got some interesting additions on the book shelves and we're serving up sandwiches, soups, and salads at lunchtime.
Come visit!
McHuston
Booksellers & Irish Bistro
Rose District
122 South Main Street, Broken Arrow OK!