It was an interesting lunch hour Friday – needless to say – what with the tornado sirens going off and the lights flickering. We were fortunate.
There was a brief outage, maybe twenty to thirty seconds. It always seems longer when it is completely dark. I was about to locate a flashlight so our guests could find their lunches when the power came back on.
Around the corner on Kenosha, my sister wasn't quite so fortunate. The power went out at Martha's Health Foods before noon and stayed off most of the afternoon. They were obliged to move their activities closer to the light through the front windows after the skies cleared.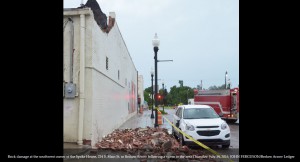 It was a deluge here in the Rose District and brought unfortunate news for The Spoke House, on our side of the street, but at the end of the next block south. Those 80+ mile-an-hour winds caught the brickwork at the top back corner of the building and sent bricks tumbling to the sidewalk. A car parked nearby looked to have caught a little damage as a result, but no one was injured. (Image is courtesy of the Broken Arrow Ledger, subcribe today!)
We've had some bad experiences here at the bookstore with driving rainstorms. The typical rain shower caused no problem, but with a strong wind added in, water seemed to find a way to slip through the roof. A crew was on the roof a couple of weeks ago, and today was the first true test.
Success!
Not a single drop of water from the ceiling – no mopping, no mess, no trash can or mop bucket drip collectors.
Books and water don't mix, and it was a pleasure to report to our leasing agent that the work on the roof did the trick perfectly.
Sometimes I think that folks tend to speak complaints quickly and are slow to give up words of praise. (I'm not excluding myself… frustration often loosens the tongue…) I don't know the name of the company that did the work, but they were quick and efficient and effective. If you need work on a roof – I'm sure I can get the name of the company to pass along.
While I'm at it (digging into that bag o' compliments), I should mention the fantastic work done on the Firebird by Ray the Ace Mechanic at Affordable Automotive. It has been years since it has had air conditioning, and I had forgotten what a great thing AC is. It's really satisfying to get so cold in the car that the AC has to be turned down.
I've been driving around like a teenager with a brand-new license.
Unsure of the forecast, but Friday is calling for Croissant Club sandwiches on the chalkboard menu. Delly-delly-delicious on a buttery croissant roll.
Come visit!
McHuston
Booksellers and Irish Bistro
Rose District
122 South Main St. Broken Arrow OK!