I was surprised to see his name on the caller ID. Hadn't spoken to Michael in a while. He had called more than once this morning, which gave me a sense of foreboding.
Sure enough. It wasn't good news that prompted Michael's call.
Our friend and radio associate, Tripp Haggard had passed away in the night. No warning, apparently. Just there, and then gone.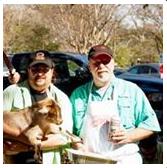 At McAlester High School we were in the same class, although he was one of the movers and shakers. Committees and groups and such. Much more of a joiner than I was at that age, although I did take membership in the Jaycees at his urging. Tripp was the president of the Pittsburg County chapter and later moved up in the national organization.
He did the morning radio news and made it fun to listen to, even if the news wasn't always designed for entertainment. He and I swapped that job a time or two back in the day. Tripp moved on and moved up. I was the boomerang-er that kept popping back up on KTMC-AM until I finally sprouted my own set of wings.
Tulsa is a bigger town and Tripp and I fell out of touch, although we bumped into each other a couple of times at some festival or another. As I recall, he had gotten into the catering business and apparently did well at it. The image shows Tripp on the right looking comfortable in his apron. Coincidentally, I'm wearing one just like it as I type this. He and I shared interests, obviously, even if we didn't share a lot of time together later on in our lives.
As we talked this morning, Michael reminded me that Tripp had run a cooking event in Tulsa that proved to be popular. In fact, a couple of years ago, Tulsa People recognized Tripp as one of the communities movers and shakers. He was nominated for the cookoff he organized and carried out to benefit charitable causes. From the article:
Tripp Haggard provided the vision and driving force to create the Oklahoma Championship Steak Cook-Off, and his strong will and leadership skills have made it a success each and every year. The event draws thousands to downtown Tulsa and receives rave reviews from all who attend. We are proud it is hosted at Trinity Episcopal Church, conducted by our Brotherhood of Saint Lawrence and a benefit for selected nonprofit organizations each year. All because of Tripp's idea and leadership."
The passing of an associate is certainly a reminder of our mortality. Even as I think of Tripp's friends and family who will be shaken by the loss, I am determined to become a better correspondent with my own circle of acquaintances.
Because, you just never know.
Rest in peace, my friend.