When I saw the passenger window gliding up so smoothly, I thought "That car didn't have electric windows."
I stepped out the front door of the shop, just as the driver was climbing out.
"Those windows weren't stock, were they?
"Not much on this car is," he replied.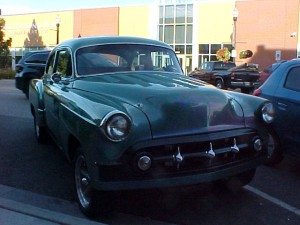 Sitting at the front counter, I had only noticed that the car was an older model. Looking it over, it was clear he wasn't exaggerating. Big slicks on the back. Undersized front tires. Chrome headers through the wheel well and side exhaust pipes.
The fellow explained how he had always wanted to run a car down the drag strip. He'd just had a birthday, started a new decade. Decided to take his baby for a trip down the straight-away.
One Hundred Seventy Miles Per Hour.
He's clearly confident of his mechanical skills. I'm not sure I would have pushed my luck at high speed driving something I had put together from pieces. The guy is fast. I just looked back out the door and the car is gone.
Figured I would have heard it fire up.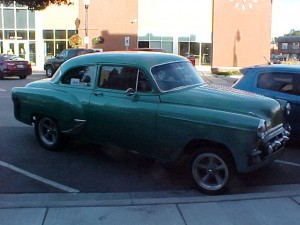 I think it's a 1953, maybe a Bel-Air. I don't know those earlier than 55's or so. I am sure this particular model did not come with a big block Chevy engine and mag wheels.
I'm happy for the guy, getting a bucket list item out of the way. His dozen-year restoration project was clearly a labor of love, and turned out waaaaay better than my ten-year project.
When I finally got the engine running in my project car, I drove it around the block – and thought it handled like a tractor. Nothing against tractors.
That British sports car is now in Dallas, having been taken there by its new owner, who hauled it away in a trailer – at a pace well under the legal speed limit.
Dustin and I will be cruisin' at top speed tomorrow at lunchtime, so get your hungry on and…
Come visit!
McHuston
Booksellers & Irish Bistro
Rose District
122 South Main St. Broken Arrow OK!