Nothing is constant except change. (Okay. Mandatory clichés are out of the way and I can forge on.) The changes are still coming in the Rose District and it's more than just the daily weather surprises.
Our hot and muggy morning turned into a cloudy and cooler afternoon, and this evening saw plenty of folks enjoying the sidewalk tables at Main Street Tavern and Bruhouse Grill. People standing out on the sidewalks talking, too. Groups scattered from Commercial down to Dallas. Fiesta Mambo had diners outside as well.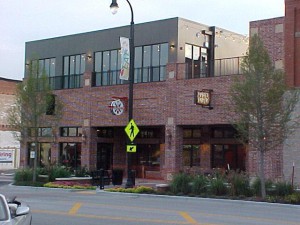 I've posted a couple of images of one of the major alterations that will very quickly be making another impact here in the Rose. An outdoor gaslamp in front of Pinot's Palette was burning this evening, and I noticed tables being set up inside In the Raw, a couple of new businesses that are occupying the ground level of the newly constructed building down the block from the book shop.
Up above is Rooftop, which looks ready to begin serving food and drinks up on the second floor terrace.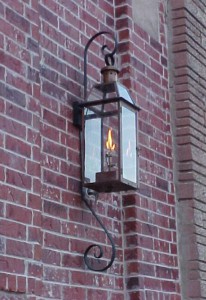 They've been open for some time, but Stogies somehow managed to miss my camera in that period of time between their opening and the day the website crashed. Now that the website is newly repaired, I've added a photo to show off that other major new tenant in the District.
Having left the shop later in the evening on a couple of occasions recently, I can attest to the fact that parked cars are still lining Main Street well into the night.
Beyond Dallas are some other major changes, but those pictures will have to come later. (I was quickly losing light this evening.) The former credit union at the southeast corner of Dallas and Main is being converted into the Main Street Square, with period store-fronts being constructed at the retail unit at the back of the parking lot. The credit union building itself will eventually house a restaurant according to the recent press release.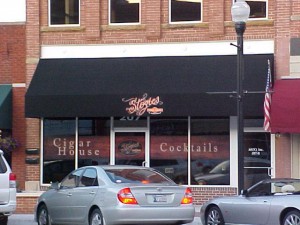 Arkansas Valley Bank's new home construction is off to a quick start, with infrastructure already covered over and building footings in place. The new structure will rise where the southside parking lot was located before the renovations began. It's going to look sharp.
The farmer's market has been busy as well, both Saturday mornings and Thursday evenings. Plenty of folks have taken advantage of the many offerings, including our bistro. Stew prep on several days last week included fresh home-grown onions from the farmer's market. They were beauties! Leaving the shop on several Thursdays past, I have caught the crowd gathered for the live music – also presented at the market square.
We've also got some changes in the works here at the bookstore. But that news isn't quite ready, and the pictures aren't yet taken!
Come visit!
McHuston
Booksellers & Irish Bistro
Rose District
122 South Main St. Broken Arrow OK!