It's a Snow Angel day, but they are pirouetting here in the bookshop.
Empty parking places in the Rose District at lunchtime…a rare sight. Attributed to the snow and the frigid wind, no doubt. They weren't ALL empty though, and Chef Dustin and I were able to send out quite a few meals to lunch-time guests today.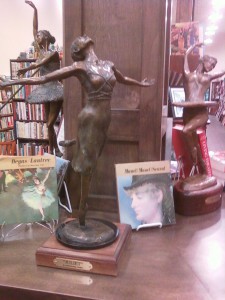 Here's the switch: there is more snow on the ground now (late afternoon) and more cars are lining the street than before. Here in the bookshop, I'm having a little break and a chance to post some pictures of the new sculpture display.
Rose District artist David Nunneley visited the other day and mentioned he was having some floor repair done at his gallery, and as a result was required to move all the displayed artwork out of the way. He wondered if we'd be interested in hosting a few ladies for a week or so, until the work is completed.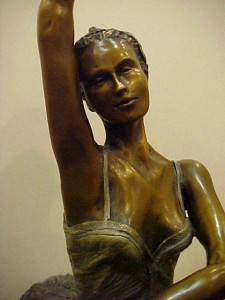 Yes, without a doubt!
So the ballet is afoot at the front column in the bookstore, bronze sculptures that were completed by Mr. Nunneley as studies done while undertaking a commission that now graces the Tulsa Performing Arts Center.
It's one of those times I wish I had some photography skills, but I'm sharing – as best I can – the dancers in their poses atop the wooden pedestals. One of the three has previously visited, and I mentioned in an earlier note how I regretted not taking a photo before she departed.
Well. Take advantage of second chances!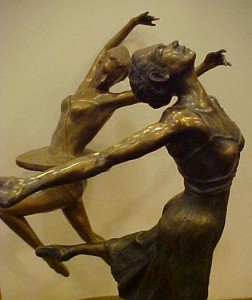 Those of you who may have missed my earlier post and the link to the artist's website can click HERE for a personal introduction courtesy of DavidNunneley.com. And you get a better look at any image on this page by clicking on it.
He has recently delivered another bronze monument out of state, this time to Colorado, and has a life-sized statute of a noted US Civil War figure in Arkansas, the story of which I hope to share in the near future.
In the meantime, you are invited to come down for lunch and a tour of the temporary bookstore gallery. It's quick, tasty, and cultured.
In fact, if it gets any artsy-classier, they won't let me in any more!
The snow is ending, so – Come visit!
McHuston
Booksellers & Irish Bistro
Rose District
122 South Main St. Broken Arrow OK!