The parting of friends can be a dismal event, as such is the loss of good company. Alas, and goodbye my treasured acquaintance. Onward to places afar.
Maybe I get too attached to some of the books? Ya' think?
First Edition, True Grit. A gritty thing o' beauty. A nicely kept volume sharing the front of the shop with me. Until this afternoon. My heart jumped when the lady set it on the counter. I hadn't considered her as a potential book buyer, the way she was roaming the aisles.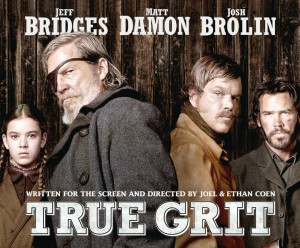 "What a story, that," I remarked, as I removed the price label.
"Not a contraction in it," she replied, and I realized immediately my book-child was leaving for a good home. "I run into the author on occasion in Little Rock," she said. "I hope to get it signed."
In a small way, that would be a bit like the book-child achieving Sainthood. Ahhh, not a good home. A great home.
And a great story.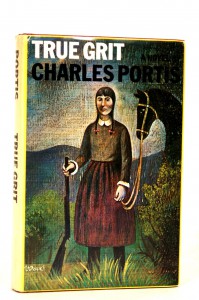 People do not give it credence that a young girl could leave home and go off in the wintertime to avenge her father's blood, but it did happen. So says Mattie Ross, a fourteen-year-old Arkansas girl who tracks the coward Tom Chaney, who shot her father down.
Then, the movies. People love John Wayne's version, but – being partial to the Coen brothers and Jeff Bridges – I prefer the 2010 telling. It was exciting, though, back in the day when John Wayne was speaking onscreen to J. J. McAlester at his mercantile store in the Indian country. As I was living in McAlester at the time, and much younger, it made a pleasing impression.
The Coens kept the dialogue true to the spirit of the author, typified by this exchange as Mattie stands outside the occupied outhouse:
Rooster Cogburn: The jakes is occupied.
Mattie Ross: I know it is occupied Mr. Cogburn. As I said, I have business with you.
Rooster Cogburn: I have prior business.
Mattie Ross: You have been at it for quite some time, Mr. Cogburn.
Rooster Cogburn: There is no clock on my business! To hell with you! How did you stalk me here?!
Mattie Ross: The sheriff told me to look in the saloon. In the saloon they referred me here. We must talk.
Rooster Cogburn: Women ain't allowed in the saloon!
Mattie Ross: I was not there as a customer. I am fourteen years old.
[there's a silence before Cogburn responds]
Rooster Cogburn: The jakes is occupied. Will be for some time.
As a seller of books, I have to resign myself to the fact that some of my favorites will only stay in the shop for a time. I'll be on the lookout for another copy. It makes for good company.
As for my friend, now departed:
By a time to rise and a time to fall, come fill to me the parting glass. Goodnight, and joy be with you all.
Yeah, I get a little too attached to some of the books. Come visit!
McHuston
Booksellers & Irish Bistro
Rose District
122 South Main St, Broken Arrow OK 74012