The Internet. Where one thing always leads to another, and I found myself listening to Hold Your Head Up (Argent, 1972). Somebody had made a video to go with the song.
There weren't official music videos back then, so whoever uploaded the music added pictures of people in bell-bottom jeans, peace symbols, and assorted old-timey stuff. A hamburger stand image popped up, and I thought – Hey!
It was one of the long-time ago memories, and I wasn't even sure I was remembering correctly – but when I saw the name Sandy's I immediately thought of Scottish plaid and a young woman in a kilt. Couldn't figure out why those things would come to mind, so I had to look it up.
As I said, the Internet, where one thing always leads to another.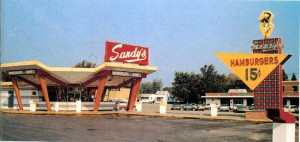 Even after the research, I can't recall where it was. Maybe Stillwater. It was back in the early days of hamburger franchising, and I guess the Sandy's folks were doing a McDonald's (Scottish) knock-off. 15¢ hamburgers. Milkshakes. Speedy (and mostly counter-only) service.
And one thing leads to another.
I'm reading about Sandy's and spot another burger joint picture. This one I know. The Burger Chef was in Tulsa, on 41st near the Skelly Drive on-ramp.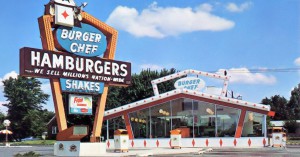 That was during a time when I was impoverished bicycle mechanic (haven't come too far since then, have I?) working at the Bike Mart on South Sheridan. We got paid weekly and the paycheck was an amount that didn't make it past Friday. Since the checks were handed out after lunch, I could never afford to eat on Saturday.
Most of my money was already spent on car and rent payments, so there wasn't much left for food. When I discovered that Burger Chef offered a build-your-own-burger bar, I realized it was cheaper than buying bread and bologna. They had the cheapo Puny-Burger that – after visiting the condiments station – became a Whopper filled with as much lettuce and pickles as I could balance between the buns.
My visits were so regular that when I stopped in on a flat-broke Saturday lunchtime with enough change for a Coke, the young clerk asked me why I wasn't getting my burger. After explaining my financial embarrassment, she reached back and grabbed a burger and put it on a tray for me.
I was a lot thinner in those days, and would have been more so if not for her kindness – which carried me through to my first job in radio. Not a lot more money, but enough to pay for my own lunch on Saturday.
Speaking of lunch – Chef Dustin prepares it every day but Sunday. Serving 11am to 2pm, so…
Come visit!
McHuston
Booksellers & Irish Bistro
Rose District
122 South Main St. Broken Arrow, OK!