Things are reaching upward in the Rose District. Solid growth, too. Solid steel.
Some folks commented on Saturday about the changes in downtown Broken Arrow. They'd moved away and had just returned. Another fellow was visiting from Edmond and said he wondered whether BA even had a downtown. He mentioned how impressed he was with it.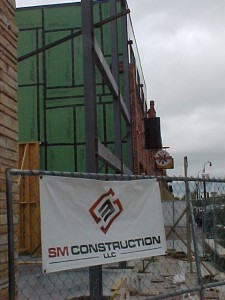 If it's been a time since you've visited, you'll spot changes once you get back here. (And that ought to be soon, by my reckoning!) On our block, things are up-to-snuff (there's a grandpa-ism!) with the completion of the utilities at the sidewalk by the park on Broadway.
It's a different matter from Commercial to Dallas.
You'll encounter a road construction sign at the intersection, but no orange barrels or barrier fences. Most of the work is actually being done on Dallas and El Paso, with some detours required on some days. (Many days a single lane is kept open.) It also comes into play at night; the streetlamps have been dark south of Dallas Street for the past couple of evenings while the utility work is completed.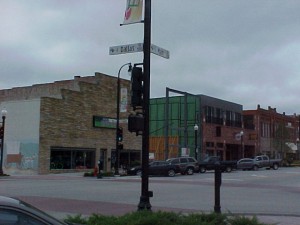 Going up between Spoke House (bicycle shop) and the In the Raw, Rooftop, and Pinot's Palette building are some sturdy-looking grey columns and girders that will be the supporting structure for what will amount to a skyscraper here in the Rose District. My small-town upbringing still keeps me marveling at any structure with multiple stair-landings. (I won't go into my fear as a kid, riding up the rickety elevator at Diamond Hardware in McAlester, while delivering early morning newspapers to above-the-store apartments.)
The steel supports here in the Rose will provide the structure for upstairs apartments, which will be located above the ground-floor commerce. At street level will be Andolini's Italian, with an anticipated opening next year.
Between Dallas and El Paso there is a similar crop of grey steel, as well as a wide staircase near the center of the project. The bank building will also feature a tower similar to a clock or bell tower, and if the completed structure looks anything like the architect's rendering on posters at the bank-front, it's going to be a beauty. That part of Main is going to be busy for quite some time, since voters approved funding to change the old bank building into a district Arts Center.
Exciting stuff.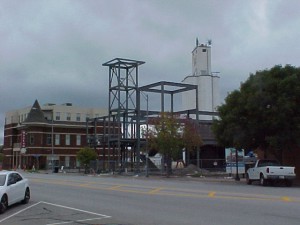 I was personally excited to get an invitation to the pre-opening of the Rooftop from Jason Scarpa, whose Main Street Tavern continues to attract crowds. Unfortunately, I had a previous commitment that kept me from attending. (Work related, you know, as my social life is as fictional as the stories I read…) It's good to see the lights on up there, and I'm in hopes of paying a visit before too long.
Great to see Stogies, Fiesta Mambo, Pinot's Palette, and Main Street Tavern open on Sunday. I'd love to be able to keep the bookstore open on Sunday, but there are things I can only finish while the door is locked, since I don't have a clerk to tend the front counter. I know that Sunday is typically a slower restaurant day, but there are plenty of people looking for a place to eat, and the more businesses that remain open on Sunday in the Rose, the better it will be for everyone. (Goes for Monday, too. I can't tell you how many apologies I've made to customers on behalf of my fellow merchants who remain closed on Monday. I have never been able to understand the logic, although it could have something to do with family or social lives, I don't know.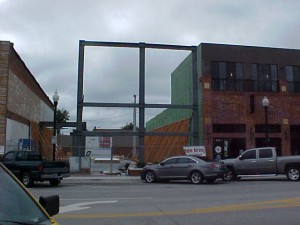 We'll have the street blocked off next Saturday for Grills and Grilles, a car-show and food event that brought out some beautiful automobiles for the inaugural edition of the event. You can make a plan now to work in a visit in between your football games or pumpkin patch visits.
Chef Dustin is back in the continental US after his tropical vacation. The bistro will be open for business again on Monday after the short break, with fresh soup, stew, sandwiches, and specials prepared just for you.
Come visit!
McHuston
Booksellers & Irish Bistro
Rose District
122 South Main St. Broken Arrow OK!