My suggestion to her was – get a nice ribbon to tie around it and put in on the shelf as a keepsake. She didn't go for that.
It was her father's book, when he was a young boy. Still has some of his scribbles in it, along with his name in grandma's penmanship. The lady who brought the book into the shop wanted to be able to open the front cover and read it. She was hoping for a book that wouldn't shed paper scraps every time it was picked up.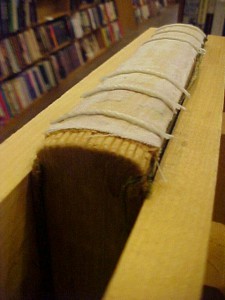 So, here we are.
I've never professed to being a book doctor. More like a first aid station. There are some old world bookbinders around the Tulsa area that can put your ancient family bible back to rights, but I'm more of a practical restorer. Usually I can get a book up and reading without a lot of fanfare, but in a condition sturdy enough to last another fifty years, give or take.
Today's specimen had already lost the front cover and four of the initial pages of the book. The back cover was hanging by a couple of threads, so I went ahead and pulled that loose tooth.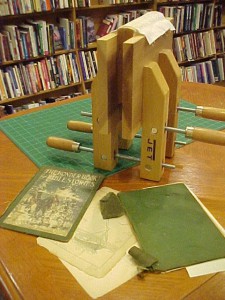 The ribbon suggestion on my part was simply to allow the book to remain as a keepsake, with the remains – such as they were – in exactly the same condition as it was when the book was passed into her possession.
But I'm certainly in favor of getting a Model T back on the highway. Maybe sporting a new paint job.
I've included a couple of pictures of the early stages of the project. Loose boards (the front and back covers), and the book block in a press. The other image is the artwork that will replace the old on the front cover.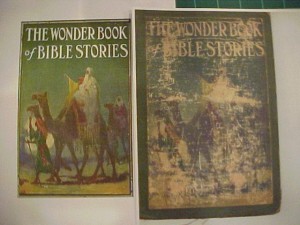 Had to decide whether I should put the book back the way it arrived or to upgrade it a little. It's sort of like a car restoration that includes new tires and a tune up, but leaves the old paint job and some rust around the edges. I opted for sanding and painting. You can see in the image how difficult it was to even see the cover art for all the scuffing.
I'll turn over a copy of the faded front cover with the finished project to preserve the sentiment, and attach the restored version of the art to the book's front.
A leather spine and cloth binding are in the plans and should be in the works in the next day or two.
Hopefully, the repaired book will keep honor the memory of the woman's late father, while providing a bright and tightly-bound reading source for decades to come.
Plenty of books in great reading-shape on the shelves here at the shop, so…
Come visit!
McHuston
Booksellers & Irish Bistro
Rose District
122 South Main St. Broken Arrow OK!