Back when I was young and adventurous, and open to the idea of working in far-flung places, I wrangled a job interview with a radio station in Buffalo, New York. At the time, I had never been to the northeast, but figured I could find it on a map.
On another job interview, I'd been flown up to Kansas City to meet face-to-face, but I understood completely when the folks in Buffalo asked that I first complete a telephone interview. It's a lot longer flight to Buffalo than Kansas City. Pricier ticket.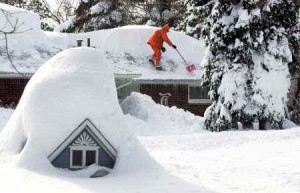 So, after getting the introductions and explanations out of the way, the news director began the job interview. The first question put to me?
"What sort of vehicle do you drive?
Huh? My vehicle? That was certainly out of left field – or so I thought. Nothing about my experience or training. Just the vehicle question that had made me pause.
"A Monte Carlo," I replied – which was the truth. I was trying to figure out some relevant angle, and wondered if I should bring up the fact that I had broken the oil pan on it while navigating a rocky trail in the Kiamichi Mountains attempting to reach a plane crash. No time for that.
"What do you drive in the winter?" he was already asking.
"A Monte Carlo," I repeated.
"Oh, that won't do," he said, in a tone that sounded a little condescending.
"Won't do?"
"No way. You know the kind of winters we have here, I'm guessing." (I didn't. I was young, living in Oklahoma, and happy to own a sort-of-still-new Monte Carlo.) He continued before I could stick my foot in my mouth. "Everyone on the staff has a four-wheel drive vehicle of some kind," he added. "It's the only way to get around."
Now, I had witnessed snow before. But, in truth, most of the deep, heavy snow accumulations that I had seen in my life had been – on television. Maybe a scene or two in the movies. James Bond skiing off that Austrian cliff in The Spy Who Loved Me. A lot of snow there.
I was naïve enough to never consider that the geography of the job would present its own set of special requirements. And Monte Carlos did not fit the bill. By the time he finished outlining for me the amounts of snow encountered during a typical Buffalo winter, I had no desire to work there. I had no desire to even be flown up for another interview.
Thanking him for his time, I bade him goodbye and couldn't resist mentioning how I enjoyed playing outdoors on Christmas Day with my newly-opened presents. Indian summers and all that.
Over the years I've heard plenty of complaints from folks about the humid summers we experience in our part of the world. Give me humidity over snowdrifts any day.
Just seeing the mountains of collected white on the recent news reminded me how close I'd come to making a big bad life choice. I owe that fellow a debt for starting that interview the way he did, so many years ago.
Otherwise, I might just now be starting to thaw out.
Chilly this afternoon in the Rose District, and a little breezy. Temperature? Sixties. Balmy by comparision, so…
Come visit!
McHuston
Booksellers & Irish Bistro
Rose District
122 South Main St. Broken Arrow OK!