It's the rare day when you find yourself up for sale on eBay. Not a Buy-it-Now, either. Selling off a bit of me, Auction-style.
Back in the day, between the job and the raisin' up o' the children, I would hunch myself over a typewriter of an evening, tapping out words. (That's the sound typewriters made: clack-clack-clackity-clack, ding! Bzzzzzssssttt. Some of you will recognize the Carriage Return there.)
I don't think I ever truly harbored thoughts of becoming a famous writer. One whose novel was turned into a blockbuster movie. Lounging on the veranda in sunglasses even on a dreary, overcast day. Maybe holding a Meerschaum pipe near my lips as though I was smoking the thing.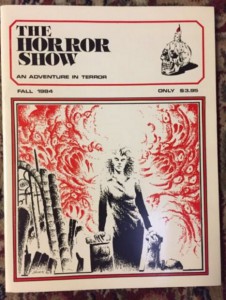 There wasn't enough time to finish a novel, so I cranked out short stories. Bad ones, mostly. It was like a compulsion though: get a little free time and plop down at the writing table. Finish one up and deposit it in the closet with the others, maybe expecting a publisher to break in the house one night to pilfer and publish one of them. Didn't ever happen.
So, instead of continuing to wait for the Thieving Publisher, I sent one of them off, safely tucked into a manila envelope along with my great hopes.
The thrill when a reply arrived! The nervousness. My name beautifully hand-penned on the envelope, bearing a publisher's return address, me fearful, but opening it anyway. He liked the story, he said. Thought it was a little Bradbury-esque (goosebumps for me by that point) and wondered if I would object to it being included in the next issue.
What??? Are you kidding me?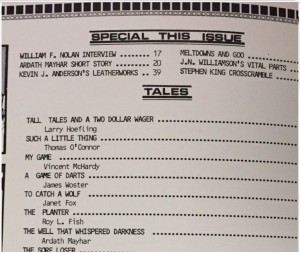 He later mailed me a little check (even smaller by today's standards…) and I waited anxiously for the arrival of the copy he promised me.
Publishing has changed greatly in the past decade, and the idea of desktop publishing was a new thing way back when my story was accepted. Not that it made any difference to me. My fiction was in the magazine along with stories by other folks, several of whom were pretty well known (in some circles).
I was published, thought I.
The capper to the thing was this: shortly after the magazine came out, my buddy and I attended a convention on the east coast. Some well-known authors were there (Stephen King was a no-show). And a lot of fans/readers. Heading out to dinner, we were joined by a fellow we met, who casually asked if we were published writers.
Hah! I was a little embarrassed – but a little bit proud, too – to reply that, amazingly, I had a story in the latest issue of a little magazine. He wanted to know what magazine, and I told him. He knew the publication. What story, he wanted to know, and I told him.
He had read it!
As good as it gets for me, at that moment in time.
We had an enjoyable evening, the three of us heading out for an exotic meal. (He had heard of Arby's but there were none in his home-state. Oh, well… it would have to do for exotic.)
There aren't many copies of that little magazine around any longer. At some point I had entered an eBay search to alert me in case one ever came up for auction.
Today was the day. I'm tempted to put in a bid just to own it.
But I already know how the story ends.
Come visit!
McHuston
Booksellers & Irish Bistro
Rose District
122 South Main St. Broken Arrow OK!