Dr. Thurman Shuller came and sat with me some years ago, when I was visiting McAlester to sign some copies of my book on Pittsburg County. As it turned out, it was fortunate for me that he gave me some of his time, because there weren't a lot of books to be signed. I was competing with the county fair, and the fair won.
To say that I was nervous about his company isn't strong enough. At least, at first I was. Dr. Shuller – perhaps by virtue of living so long in McAlester – had a firm grip on the local history and served the county residents admirably as president of both the genealogical society and the historical society. His assessment of my humble work may not have made a difference in sales or public reception, but it was certainly important to me as a matter of pride.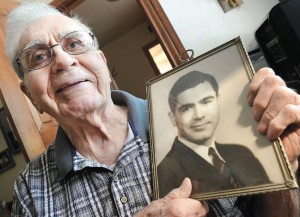 I passed the test. He gave me the ultimate compliment, actually – telling me he learned a few things in reading my photo-heavy history. I don't know if he truly did, but it made me feel good. He did point out that I spelled Reba McEntire's name wrong, and that he ought to know, since she had been a patient of his. (Even now, I'm double-checking my spelling wanting to get it right for the good doctor.)
Thurman Shuller suffered a stroke on Thanksgiving Day, and died on Saturday. He was 98 years old.
He was just a few years younger when we talked in the front foyer of an Old Town antiques mall, and I can only hope I maintain my faculties as he had. He was slow-moving until he sat down, but once settled in his chair, it was obvious his thinking had not slowed at all. We talked about the book, some of the characters who had helped found McAlester in its early days, and touched on the subject of my father, who had worked with him at the Health Department and Clinic for many years. For some reason, I find it comforting to hear kind words about my dad from people who remember him from so long ago.
Dr. Shuller aided me greatly with the facts about the Busby Theatre and its namesake, but it didn't come easily at first. I understood later his reticence in sharing his material with me, since he had researched Busby extensively and had compiled quite a dossier on that early day entrepreneur. After our first telephone conversation, I decided Dr. Shuller was a proprietary historian, one of those holding information but declining to share it – for whatever reason.
He sent me a big packet of articles along with one of his speeches, and some photocopied notes he had compiled – as well as an apology. It was his desire to have the information published in an article for the Chronicles of Oklahoma (the Oklahoma Historical Society monthly) that had prompted him to withhold the information I had asked about. He told me that he feared he might not live long enough to get the thing in print. He needn't have worried.
All the same, my own efforts were greatly aided by the notes he shared. I hope that he got the articles (along with all the footnotes he was dreading) in the Chronicles.
He was a good man, well-respected in the community after serving 41 years as a pediatrician, later a published author, and one of the primary researchers in compiling the names of those who lost their lives working in the Pittsburg County coal mines. His accomplishments were as diverse as flight surgeon during World War II to piano player for the local Rotary Club.
I'm happy to have had a chance to talk to him at length for a single afternoon, and assist him back to his car. I owed him a debt of gratitude and I find it extra-satisfying to be able to deliver heart-felt thanks in person.
His legacy is rich in family, friends, acquaintances, and a solid body of local history preserved for all time.