Let the work finally begin.
Not that there hasn't been a lot of that going on already, at the site of the former Francy Law Firm on Main Street. It's just that the work from this point forward is a different kind.
There won't be professional carpenters, contractors, plumbers, and HVAC workers. Just me. And the volunteers. And there aren't many of those.
But that's okay.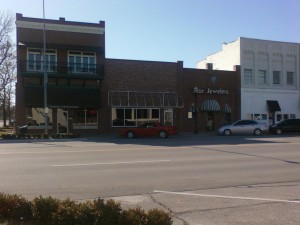 It's been a labor of love all along, running the bookstore in Broken Arrow. The book industry is changing almost every day, what with electronic readers, authors posting chapters in their online blogs, store closings, and a general decline in reading habits. There are still plenty of things being read, but a lot of the reading is online: blogs, websites, tweets, news aggregators, and Facebook updates.
That piece of paper, the final page of a small stack of numbered papers, has my signature on it. The lease is signed, and the official okay to begin moving items into the new location has been given, as of Tuesday, March 12, 2012.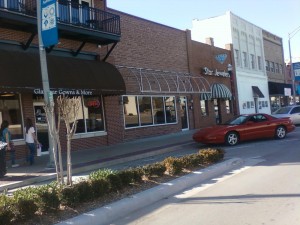 That's just shy of five months since receiving the official heave-ho notice from the previous landlord, who declined to provide a month-to-month rental arrangement to allow the bookstore to remain in operation until the new location was completed.
No hard feelings.
It just amounts to more work, moving for a second time those items carried into storage five months ago. And that work begins Tuesday.
Well, in all honesty – it could. Due to the timing, it won't really get started until Wednesday to avoid a scheduling conflict – of all things.
Then, the shelves may be hauled out of the church where they've been stashed, to be reconstructed in the new location.
Books to follow that – but, all things in due time.
Let's get the shelves rebuilt first. In the meantime, I snapped a couple of pictures of the exterior on my way back from signing the lease, showing the brick front without awning, and the trusty old Firebird parked in front. Click for a bigger view.
PS. The old Pontiac doesn't look too bad for 16 years on the road, eh?