I'm grabbing a minute to give an update on the store's progress – lots of folks have been asking and dropping by. I've been leaving the front door unlocked and have met some people and have had a chance to catch up with former customers wondering where I've been hiding.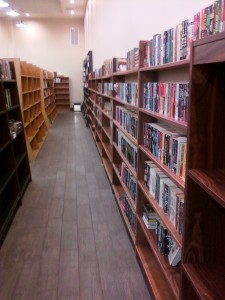 The inventory is going on the shelves in spurts, I'm afraid. Monday brought with it grand intentions for bringing over several loads from storage, but after two trips there were a number of things that demanded immediate attention in other areas. Errands prevailed later. Finally, early Tuesday I managed to get the remainder of the boxes unpacked with the aid of my sister Kathy, who had part of a day off from her activities as proprietor of Martha's Health Food in Broken Arrow. (Just down the street and around the corner these days…)
I've included some pictures that show the interior with a few of the books in place.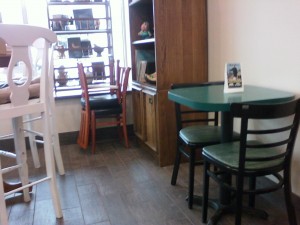 It isn't easy to decide a logical way to arrange the inventory, but it's getting there. Okay, so it isn't brain surgery, either. Basically it has boiled down to fiction on the walls and on the right, non-fiction to the left. Exceptions expected and permitted.
The little almost-Irish-green tables came Saturday, courtesy of a now-closed restaurant west of Tulsa. They aren't exactly what I had in mind, but I'll admit I like them better in the McHuston interior than I did in the storage unit where they were stashed when I bought them. At the price, I couldn't really turn them down, and I do like the chairs. Sturdy and comfortable.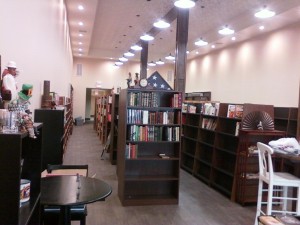 Food service is still intended to put those tables and chairs to good use. Questions have been posed as to whether it will be a printed menu or daily chalkboard, and the truth is, I don't know yet. I have a menu ready that could be printed in a jiffy. I also have a white board on an easel. After running the bookstore all alone for the past five years, I realize that the kitchen will bring on an addition set of tasks and chores. With a five-month hiatus, I'm not in a position to hire someone to help while waiting for customers to come in. That point will arrive soon enough, I hope.
In the meantime, I cannot be worrying too much about cooks and kitchens. There are plenty of books that need to be unpacked and organized before moving on to phase two, which is getting the doors open – for business.