I was talking to one of our lunch guests the other day, and he made a quick pronouncement: You LOVE gadgets, don't you?
It's true. I always have. Years and years ago, before streaming video, before DVDs, Before Blue-ray and Laserdisk… there were videocassettes. The machines were big boxy things that sat on the shelving system that took up an entire wall and was dedicated to housing your stereo components.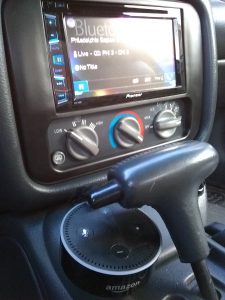 At that time, we had just experienced a small financial windfall and I believed our household HAD to have a VCR (that's video cassette recorder, for you young scalawags). They were so new that the machine could record only a single program, at a single time. Only the channel you were currently watching. Couldn't program it to record later – you had to press, simultaneously – the Record and Play buttons.
By the time you had the show's channel on the TV, waiting for the program to begin so the buttons could be pressed – you might as well have just plopped down on the couch and watched it right then and there.
But it was new tech. A gadget. I'm embarrassed to admit how much we paid for that thing, so I won't.
Still love the gadgets, though. And thankfully, most of the prices have gone down, comparatively speaking.
Alexa is almost the ultimate gadget for me. I got on board that train when the Echo first came out from Amazon, and now own several. The device is capable of much more than I currently demand of it, but I'm still learning.
One of the things I love is the voice-control of other devices. I can turn on lights from across the room. I can ask Alexa to turn on the TV or turn the volume up or down.
Now, I can even do some of that same stuff in the car. From the parking space behind the store I can turn on the exterior lighting to unload supplies after dark. Listen to the game on the car speakers (a game not available through local radio) on streaming media.
With an AC transformer tucked under the dashboard I can plug in an Echo Dot, set it on the console, and ask Alexa about weather, news headlines, lame jokes, and even turn on the interior lights at the house from the driveway. Music streams through the Trans Am speakers from my Pandora account, and college football from the Sooners Sports Network.
Do I absolutely NEED it? Nah.
But I love gadgets.